Week 4 Of Bodgey Bagel's New Caption Extraordinare!
For Entry into Bodgey Bagel's Caption Contest Week 4
Leave your Caption for the Photo in the comments.
All entries must be in beforeWednesday 22th Nov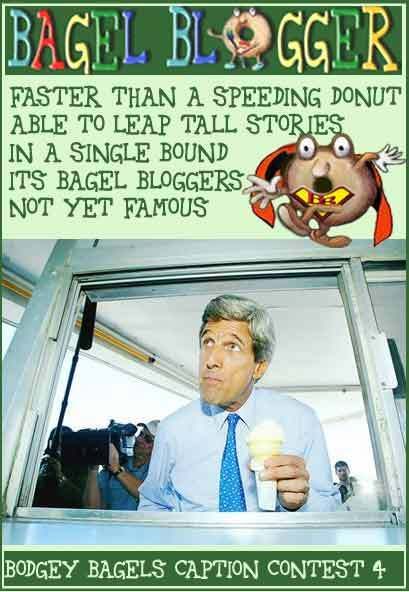 John Kerry Photographed with Ice Cream Cone: Fire Away!
Caption away! Leave your entries in the comments section before Wednesday, November 22nd. May the best caption win!
The Winner of Last weeks Contest No 3:(15th Nov)
[Click Read More..]

The fourth 'almost famous' Bodgey Bagel Weekly Photo Caption contest.
The 3rd Bodgey Bagel Caption Contest winner is.....Drum Roll
1st Place: Trying to appeal to the younger voters, Dubya leaps into the mosh.
....just as everyone moved away. [Anon] [Unfortunately this weeks special $10,000 dollar prize won't be awarded due to having no name.]...
2nd Place: "Watch me pull a Castro!" [ GOP & College ]
3rd Place: While campaigning for the November 7th election, the President is cursed with a brief prophetic vision of the upcoming election results.
After that, it wasn't worth trying very hard. [N.B. Goldstein]
4th Place: "Wait for it, wait for it! It's coming... I just drank a whole can of Coke... this is for sure gonna be the winning burp... here it comes... wait..." because of course we're at the "Burping Championships of the World 2006" [~ Sarah ~]
5th Place: Aides estimated Bush lost the crowd halfway through his 20 minute Lynard Skynard tribute. [The Man]
Honorable Mentions:
HM: Time to cut and run [Rodney Dill ]
HM: "I must follow my people, am I not their leader?" (Disraeli)[Rodney Dil]
HM: Where will YOU be when diarrhea strikes? [Cowboy Blob]
Bagel's Dishonourable Mention: Then after all that, Donald goes, 'Man its thanks giving and this turkey is bolting!'[BB]
Fantastic entries,thanks you guys!
Thanks for your entries! Bagelblogger

Other blogs with Caption Contests:
Outside the Beltway
RightLinx
The Clash Of Civilizations
Willisms
Commonwealth Conservative
Bullwinkle Blog
The Right Place
Bravozulu
The Gone Rick Motel
Blogmeister USA
Cowboy Blob
SgtStryker
Wizbang Blog
With Thanks to all those that entered - Bagelblogger.

Bodgey Bagel's Caption Contest 4 Get those Captions in!!


: * Caption * Funny Caption * Funny Photo Caption * Caption Contest * Bodgey Bagels Caption Contest 4 * Bodgey Bagels Caption Contest 3 * Bodgey Bagels Caption Contest 2 * Funny * Humor * Laugh * Captions Contest * Jew * Australia * Jewish * BagelBlogger * Bagel Blogger