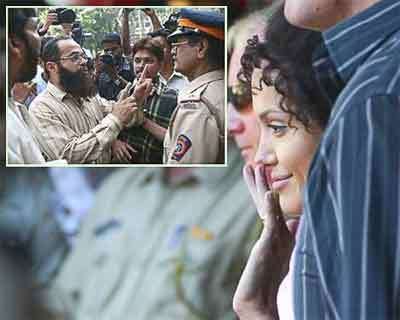 Hollywood actor Angelina Jolie waves to fans while later,
inset, police try to calm an angry parent outside the Anjuman-i-Islam School
in Mumbai who claimed Jolie's bodyguards pushed his child.
US star Angelina Jolie was stranded at an Islamic school in Mumbai where she was shooting a movie on Thursday, when angry parents accused her bodyguards of shoving their children around.
Jolie's bodyguards were unable to clear a way for her through the irate crowd for at least half an hour, said witnesses who were at the school in Mumbai, India's financial hub.
The parents said they had come to pick up their children at the primary school where Jolie was shooting A Mighty Heart, a film about US journalist Daniel Pearl's abduction and murder by Islamic militants in Pakistan in 2002.
The film's crew were trying to recreate a Pakistani police station at the Islamic Anjuman-i-Islam school, one parent said.
"Some of the students were pushed around when they were leaving school by the bodyguards," said Mohammed Yousuf, general secretary of the Parent-Teachers Association, whose two children study at the school.
"Jolie's bodyguards had no decency and they pushed some of the women around," added Sarwar Siddique, who had come to collect his two children.
"The children got scared at seeing the crew dressed in police uniform and carrying weapons," Siddique added.
Another unidentified man told private NDTV network that one of Jolie's bodyguards called a man in the crowd outside the school a "bloody Indian" and made a gesture miming the slitting of a throat.
Parents said all the exits were blocked and the children could not leave the premises, leading to chaos and a scuffle.
There was no immediate comment from Mumbai police, but media reports said Jolie finally managed to get out of the school with the help of her bodyguards.
This is at least the third time the Hollywood star has ruffled feathers since her arrival in India with partner Brad Pitt and three children last month.
In October, Indian television showed pictures of a man it said was the couple's bodyguard roughing up a British photographer in the western city of Pune.
The couple also upset officials in the resort city of Jodhpur after they landed a helicopter without permission.
BB: Mmm An angry Crowd of Muslims, that's hard to visualize.

Reference:
SMH: Jolie hides from angry crowd
[end]

Always fresh!


: * Angelina Jolie *Brad Pitt * Mumbai and Jolie * Anjuman-i-Islam * Angelina Jolie and security * Bagel Blogger