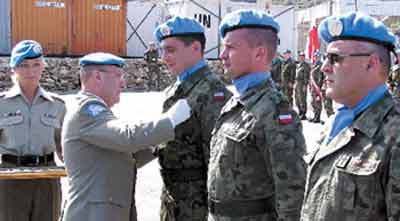 Gen. Alain Pellegrini awards medals to UN peacekeepers in Beiruit
The head of the French-led UN peacekeeping force in Lebanon called on Israel to cease its "dangerous" mock air raids, but said Israel has said the flights would continue as long as two kidnapped Israeli soldiers were not freed.
Incidents have been avoided only because of French military restraint, Gen. Alain Pellegrini said in an interview on the Internet site of the French conservative daily Le Figaro on Friday.
"I call on Israel to end them," he said of the flights over southern Lebanon, where UN peacekeepers and Lebanese troops have been stationed since the 34-day war between Israel and Hezbollah militants. "I have a hard time understanding them ... This is dangerous."
The overflights "could give the Hizbullah an occasion to react," Pellegrini was quoted as saying.
Asked if he excluded use of force against either party in the conflict, the general said: "No. I don't exclude it."
[Click Read More...]
The French government demanded that Israel stop the raids after French peacekeepers came within seconds of shooting down Israeli warplanes less than two weeks ago. Defense Minister Michele Alliot-Marie said a near-catastrophe was avoided.
"At the end of October, we just escaped an incident when French soldiers felt threatened," Pellegrini reportedly said. "They have to assure their self-defense."
"There is a difference between the overflight of a plane at 5,000 meters altitude and an aircraft that goes into a quasi-attack configuration," he was quoted as saying. "If we avoided an incident, it's because the French military showed great restraint and sang-froid."
On Oct. 31, Israeli F-15 fighter planes nose-dived repeatedly over French peacekeepers' positions in southern Lebanon, the French defense minister said Wednesday.
Israeli officials said the flights were needed to monitor Lebanese compliance with UN demands, and said they were working with the UN peacekeeping force to avoid misunderstandings.
Pellegrini had another version.
"They want to see our activities on the ground and at sea. They don't trust us," he said, according to Le Figaro.
He also said, however, that Israel "told us they will continue overflights as long as they haven't recovered their two soldiers kidnapped by the Hizbullah."
The soldiers' kidnapping sparked the summer war between Israel and Lebanon-based Hizbullah fighters.
Pellegrini said it also appeared that Israel "has information on arms deliveries to Hizbullah via the Syrian-Lebanese border."
"As long as these arms passages continue, they tell us, they will overfly Lebanon," he said. Israel alleges there has been a resurgence in Hizbullah military activity in the south, he said, adding that "for the moment" no such activity has been noted.
An internal Israeli military document says the air force's flights over Lebanon were intended in part to pressure the international community to take action to stop arms smuggling to Hizbullah guerrillas and to release the two abducted soldiers, a senior Defense Ministry official told The Associated Press in Jerusalem a week ago.
Indonesian UN peacekeepers land in Beiruit
Pellegrini, the French head of the peacekeepers, said there were currently 9,500 soldiers in the unit, and that 2,000 more were to arrive by the end of the month or early December.
BB: Israel doesn't trust you? You threaten to shotIsreal planes down, you refuse to come out after dark, you rant towards Israel but never towards Hezbollah. You do nothing to stop the flow of arms, you are seen openly chating to Hezbollah, the two soldiers have still not been released despite it being a condition of the UN resolution and you then wonder why Israel 'doesn't trust you'? Are you on the same planet let alone page?
BB: Crummy joke time:
Q: What's the difference between a Syrian Truck going to Lebanon and an Octupus?
A: 5,000 arms.
References:
JPOST: UNIFIL Chief: Israel doesn't trust us

Always Fresh!


: *UNIFIL * UNIFILand Peacekeeping * UNIFIL and Lebanon * Hezbollah Arms smuggling * Syria Arms smuggling * UNIFIL and Israel * UNIFIL Troops in Lebanon * Arms smuggling and UN * Bagel Blogger