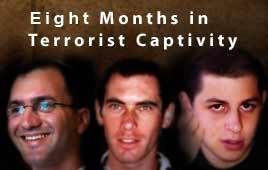 10 March 2007
EIght months tommorrow, have passed since the unprovoked abduction of Eldad Regev and Ehud Goldwasser on the Israeli side of the Lebanese border, and of Gilad Shalit on the Israeli side of the border with Gaza.
[Click Read More...]
EIght months have passed since the unprovoked abduction of Eldad Regev and Ehud Goldwasser on the Israeli side of the Lebanese border, an action that precipitated widespread confrontation between Israel and the Lebanon-based Hizbullah terrorist organization. To date no word has been heard from the two captive soldiers, and neither their families nor the government of Israel have any knowledge of their whereabouts or their current state of health.
Two weeks prior to their abduction, another soldier, Gilad Shalit, was abducted as well, this time on the Israeli side of the border with Gaza. His family, too, anxiously awaits news from him. Especially grave is the fact that these unprovoked abductions were carried out on sovereign Israeli territory.
Taken from their families eight months ago, these captive soldiers are denied the most basic of human rights as enshrined in the Geneva Convention. In a gross breach of U.N. Resolution 1701, the terrorist organizations that carried out these abductions, and Syria and Iran who support them, behave as if these human rights are nothing more than a bargaining chip in their game of negotiation, refusing even to transmit messages to the captives from their families. International bodies who met with the captives' families have also tried to forward messages and letters, but they have been met with a negative response as well.
Neither Israel nor any other civilized, law abiding country can accept this situation. The World speaks of Human rights yet ignores the most basic rights of these kidnapped soldiers.
---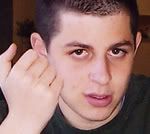 Gilad Shalit (20) was born on August 28, 1986. He is the son of Aviva and Noam Shalit and the brother of Yoel (23) and Hadas (16).
Gilad was born in Nahariya but was raised from the age of two in Mitzpe Hila in the western Galilee. He graduated with distinction from the science class of Manor Kabri High School. Gilad loves math and sports. He has enjoyed playing basketball ever since he was a child, but is interested in sports in general. He follows the different leagues and tournaments all over the world, from tennis and basketball to cycling and athletics. If you wish to know the results of a tournament somewhere in the world - it's Gilad you should ask.
Gilad is a well-mannered, quiet and introverted young man. An almost permanent shy and hesitant smile light up his face. Gilad is always volunteering to help everyone.
Gilad began his military service about a year before his abduction - at the end of July 2005. Despite a low medical profile, he preferred to serve in a combat unit, followed his elder brother Yoel into the armored corps. After successfully ended his training, Gilad was guarding and ensuring the security of the settlements around Gaza when he was abducted by terrorists.
Since the attack at Kerem Shalom on Sunday, June 25, 2006, Gilad has been held in the Gaza Strip by Hamas.

Ehud (Udi) Goldwasser (31) was born in Nahariya on July 18, 1975. He is the son of Miki and Shlomo and elder brother of Yair (26) and Gadi (23). He married Karnit 10 months before his abduction.
Udi is a graduate of the science class in the Amal Comprehensive High School in Nahariya. He served in the combat battalion Zabar Givati. After his military service he toured Australia alone on a motorcycle for half a year. Later, he completed his preparatory studies in the Technion and went on to study environmental engineering.
Udi is a kind and much loved person. He is considerate of other people's opinions even if they oppose his own. It's fun being in his company. He is a loving and caring person, always ready to offer a helping hand in any situation. He is a man of principles and values, knowledgeable in many subjects. He loves movies, music and spending time with his friends. A motorcycle buff, he has encyclopedic knowledge of all models. As a child he sailed the seas with his father, and has recently got his skipper license for sailing yachts and was planning to sail abroad.
Conservation of the environment is of the utmost importance to Udi. Indeed, he joined a Green group to help clean our nature reserves. Udi loves animals, and although he suffers from a mild fur allergy, he lives with two cats and lovingly adopted an abandoned and injured dog he found in the street. Over the last few years he has developed a great interest in photography. He spends much of his spare time taking pictures of scenery and nature in Israel and abroad. Lately, his hobby has become a profession having begun to take on projects as a photographer.
On July 12, 2006 Udi was abducted to Lebanon after Hizbullah attacked his military patrol.


Eldad Regev (26) was born and raised in Kiryat Motzkin. He is the son of Zvi and the late Tova Regev, and brother of Benny, Ofer and Eyal.
Eldad completed his secondary education at the Yeshiva High School in Kiryat Shmuel. He excelled in biology and passed all his matriculation exams with ease. In spite of his mother Tova's untimely death when he was in the 12th grade, Eldad decided to serve in a combat unit and volunteered for the elite Givati infantry brigade. After his army service, like most of his friends, he traveled to the Far East. On his return he started to work while at the same time enrolling in Bar Ilan University's pre-law preparatory course with the aim of being accepted to the university's law faculty.
One of the qualities that makes Eldad so special is the kindness of his heart – never hesitating to donate and offer aid to anyone in need. Eldad made many friends throughout high school and during his army service, all of whom can attest to his fine qualities.
Among Eldad's hobbies are football (last year he passed a coaching course - he is a fan of Maccabi Tel Aviv football team), music and books. A fanatic football fan, before being called up for reserve duty Eldad closely followed the World Cup games. He also went to the concert given by Roger Water (of Pink Floyd) in Kerem Shalom.
Eldad was called up for military reserve duty after completing his exams at the preparatory course in Bar Ilan University. Three days before his abduction he visited his family and participated in the annual memorial for his mother. Later, he watched the last game of the World Cup between Italy and France. The following day he returned to the complete the remainder of his reserve duty.
On July 12, 2006 Eldad was abducted and taken to Lebanon after Hizbullah attacked his military patrol.
References:
This article is substantially based on a previous article
Behind the Headlines: Six months in terrorist captivity
which is from the Israel Ministry of Foreign Affairs.
It is provided here to provide context to visitors of Mr Bagel.

Mr Bagel- Always Fresh!
: IDF * Missing Soldiers * Gilad Shalit * Ehud Goldwasser * Eldad Regev * Kidnapped soldiers * Jew * Terrorism * Jewish * BagelBlogger * Bagel Blogger