This is the first four column conversion of the 'rounders' template any where.

I have seen a triple column conversion but no one has been crazy enough to try a 4 column. Here it is, via Bagelblogger.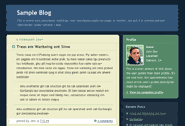 Now it might not suit every one, but to me, Its a task that was long and arduous, but worth every minute.
Right: The original Rounders template
A few details. over 200 hours refining almost every element of my blog.
Over 100 widgets, yes I must be one of the worst widget hoarders in web - dom.
I'm wondering Is there a wacky widget way of saying you have way too many?
I have a lot of refining to do but considering that this was up for a grand total of 4 hours before this post was done, I'm pretty happy.
I resented being basically forced by blogger [google], to transfer my blog, but now that I've seen some of the goodies under the bonnet of a standard template, its good, very good.
It makes total sense to break down elements of the side bar into sub sections or widgets.
There's a few obvious features that are missing which are still needed.

Why can't you turn a widget off? So it doesn't display?
Why can't you name a widget with a functional name that doesn't display or at least give the option of not displaying the widgets name?
Why has Google still not allowed us to back up our entire blog?

Surely their fear of people picking up and leaving with their 'knapsack' of posts and comments, is far out weighed by the benefit to the blogging community in knowing they have a '2nd copy' of their blog. [and the attraction this will be for bloggers]

But, now that I've done all the work, if I was given the choice between the old blogger and this newer version I'd choose this version every time.
Except: When Is Google going to address the time lag in leaving comments?
Why does it take so long to leave a comment?
There's some major announcements coming up with the JIB AWARDS very shortly, the work group has been burning the mid night oil.
I'd like to apologise for the very irregular blogging in the last few days, between this new look template, and my JIB responsibilities I have been neglecting to post much at all.
Finally don't forget Me-ander is hosting this fortnights JPix, I've seen some amazing photos around the Jblogosphere, make sure they find there way to Batya's blog Me-ander. Submit your photo posts here.

Always Fresh!
: * Blogger beta * Rounders and 4 columns * Blog Hints * Bagelblogger and new blog * Blog tips * Blog change over * Changing to new blogger * Beta Blogger * Blogger and changing * New Blogger * Bagel Blogger *