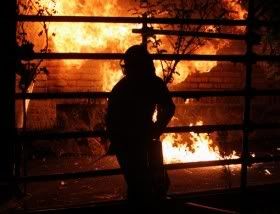 Some 200 Iranians attempted to set fire to the Danish embassy building
in Teheran to protest a new video about Prophet Mohammad.
Danish Web sites remove video mocking Prophet Muhammad
COPENHAGEN, Denmark -- Videos showing anti-immigrant party members mocking the Prophet Muhammad were pulled from Web sites Monday as two youths seen in the clips were reported in hiding and the Foreign Ministry warned Danes against traveling to much of the Middle East.

Muslim clerics from Egypt and Indonesia condemned the video broadcast in Denmark last week showing members of the Danish People's Party youth wing with cartoons of a camel wearing the head of Muhammad and beer cans for humps. A second drawing placed a turbaned, bearded man next to a plus sign and a bomb, all equaling a mushroom cloud.
[Click to read and see more]

In a move aimed at defusing tension, the Danish Foreign Ministry invited ambassadors from Muslim countries to discuss the video Monday. It was unclear how many diplomats took part in the meeting or which countries they represented.

Prime Minister Anders Fogh Rasmussen condemned the youth in the video Sunday, saying "their tasteless behavior does in no way represent the way the Danish people or young Danish people view Muslims or Islam."

Citing critical media reports from many Muslim regions, the Foreign Ministry cautioned against travel to Gaza, the West Bank, Saudi Arabia, Lebanon, Jordan, Egypt, Iraq, Iran, Syria and Turkey.

"Against that background, we urge Danes to use caution as the matter could possibly lead to negative reactions. The atmosphere and reactions can vary dependent on time and place. Danes should be aware of the local mood," the ministry said.

The video was produced by an artists' group, Defending Denmark. In a message posted along with the video, the group said it had infiltrated the Danish People's Party Youth, known as DFU, for 18 months "to document (their) extreme right wing associations."

"This is not an example of something that is meant to provoke. This is an example to show how things are in Danish politics," artist Martin Rosengaard Knudsen told Danish public radio.

The clip was removed from that broadcaster's Web site Monday, as well as from the Nyhedsavisen newspaper's site. The purpose of the original publication was "not to insult Muslims or expose any members ... to any danger," said the paper's editor, David Trads.

A party official reportedly said that two youths seen in the video clips had gone into hiding.

"They are very shaken by the huge reaction the drawings have had," Kenneth Kristensen was quoted as saying on the Web site of the newspaper Politiken.

In Jordan on Monday, a powerful umbrella for some 200,000 professionals including engineers, doctors and journalists, said the video "reveals hatred toward the Prophet who came to the world with a message to enlighten the people."

"We call on all Muslim states to sever relations with Denmark or any other country which harms Islam," the associations said in a statement.

They said the video revealed the "nature of the struggle between Muslims and their enemies which are led by America."

The associations are vocal critics of the moderate policies of Jordan's pro-Western government. Hard-line Muslims and leftists in these associations have repeatedly called on the government to abolish a 1994 peace treaty with Israel.

The episode comes in the aftermath of an outcry across the Muslim world after the original September 2005 printing in Danish newspapers of 12 cartoons portraying Muhammad -- considered taboo for most Muslims.

Four months later, the images were reprinted in a range of Western media, triggering massive protests from Morocco to Indonesia.
_____________________________________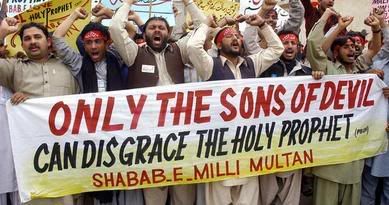 Some Protestors before they start burning things
This has got to be the biggest beat up I've ever seen.
You've got some Danish young Adults joking around (in poor taste) drawing some rather poor reditions of a Camel with beer cans for Humps and A turban guy next to a bomb. So What!!
So these young adults are members of what appears to be a far right political Party. They've been exposed as being 'intolerant' by an artists' group, called Defending Denmark.
Guys your missing the point, some artists, exposed a extremist Political party to stop racism! Not to make a video to insult Mohammed.
And any way since when did Muslims take the moral high ground when it comes to intolerance, fundamentalism and non violence??
Let me guess, Iranian president Mahmoud Ahmadinejad will stir things up to suit his own political purposes,
by saying things like:
"if the ocean of human nature erupts, its repercussions will be uncontrollable."
Extremist muslims will go round burning Embassies, commiting acts of violence, screaming that it was wrong to portray the prophet with such disrespect.
And I totally agree.
You see, its Extremist Muslims and the Extremist Danes who belong to DFU that should be mocked.
The irony is these two groups share a lot in common.
They both espouse intolerance, have nothing but hatred, violence and both have no respect for other peoples or for the true meaning of worship and respect for G-d.
Oh you might want to check out these two links.
Here and Here [Depictions of Mohammed]
Bagelblogger
Iranian Update:
Tehran: Hundreds of Iranians set fire to the Danish Embassy in Tehran on Tuesday, in protest of a video showing right wing Danish youths mocking Prophet Mohammad (PBUH).
Some 232 Iranian lawmakers on Tuesday called on the government to sever economic relations with Denmark.
Top cleric Ayatollah Nasser Makarem Shirazi called on all Muslim states to break ties with Denmark.
The video was shot during a summer camp of the youth wing of the Danish People's Party, outspoken critics of immigration, especially from Muslim countries.
One member was presenting a cartoon showing a camel with the head of Muhammad and beer cans for humps. A second drawing showed a bearded man wearing a turban with a plus sign and a bomb that equaled a nuclear mushroom cloud.
In Indonesia, Foreign Minister Hassan Wirajuda, spoke to his Danish counterpart Per Stig Moeller about his concern that the insults to the Prophet Mohammad (PBUH) had "happened again and again."
He added that Moeller "expressed his regret and said the Danish Government disagreed with (the video) and rejected the tasteless acts."
References:
WDWH: Danish Web sites remove video mocking Prophet Muhammad
Gulfnews.com: Protests in Iran over Danish

Bagelblogger
Have a good day!


: * Mohammed Video * Danish Video * Danish Mohammed Videos * Islamophobia * Depiction of Prophet * Camel with beer cans * Mahmoud Ahmadinejad * Danish Videos * You Tube * Muslim Protests * Ahmadinejad *Iran * Danish Embassy * DFU * Defending Denmark * CamelDanes and Video * Embassy of Denmark * Mohammed and Danish * BagelBlogger * Bagel Blogger
*