Kites for soldiers, protests for Olmert
From Ynet:
Kites flown for kidnapped soldiers while terror victims' families protest at PM's
house against release of prisoners
While thousands of families were flying kites in the Israeli sky Wednesday to express their hopes for the return of the three kidnapped IDF soldiers, families of terror victims protested in front of the home of Prime Minister Ehud Olmert against the release of prisoners in return for Corporal Gilad Shalit's freedom.
Above Right: The Goldwassers

[CLICK MR BAGEL TO READ MORE]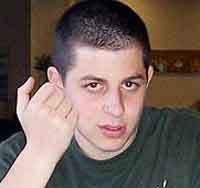 Thousands flocked to a kite flying festival organized by the Maccabi Tzair youth movement near the Golani junction in northern Israel as a show of solidarity for the three kidnapped soldiers Eldad Regev, Ehud Goldwasser, and Gilad Shalit.

Right: Gilad Schalit
Shlomo and Miki Goldwasser, parents of Eldad, participated in the event and said that "thousands of children arrived. It is unbelievable and very heartwarming.
Right: Ehud Goldwasser
We got so many calls from people of all ages to come and join them and we did so gladly." Shlomo Goldwasser added that despite the fact the issue of the kidnapped soldiers went down from the public's agenda, those who are tasked with releasing the soldiers are working day and night to find a solution.
Right: Eldad Regev
'Releasing prisoners will result in more kidnappings'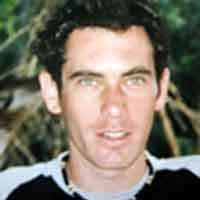 But not everyone was flying a kite this day. A group of families of victims of terrorist activities protested at the exact same time in front of the home of Prime Minister Ehud Olmert with heavy hearts.
The demonstrators, all belonging to the Almagor Terror Victims' Organization were protesting against the government's intentions to release Palestinian prisoners in exchange for the freedom of Gilad Shalit who is being held by a Palestinian terror organization in Gaza. The protesters claim that releasing prisoners will only result in more kidnappings and terror attacks.
Right: Almagor Terror Victims' Organization
Rabbi Dr. Shlomo Guttel and his wife Cecile told Ynet that their 15-year-old daughter Tamar was murdered in an attack in Jerusalem. After the terrorist was captured, he was released from jail in the framework of the Jibril prisoner exchange deal, and returned to kill two more tourists in the Old City of Jerusalem and now sells merchandise as a vendor near the Nablus Gate.
From Arutz Sheva:
(IsraelNN.com) Thousands of kites were flown on Wednesday at Golani Junction on behalf of three captive IDF soldiers, Ehud Goldwasser, Eldad Regev and Gilad Shalit.
While families of the captive soldiers were invited to attend the event sponsored by Young Maccabi, only Shlomo and Miki Goldwasser were in attendance.
"Kites symbolize freedom," event organizers announced, hoping their effort brought a feeling of solidarity to the families of the soldiers who have been in captivity for over three months.
References:
Ynet: Kites for Soldiers,protests for Olmert
Arutz Sheva: Thousands of Kites Flown on Behalf of Captive Soldiers

Bagelblogger
Have a good day!


: *Kites and Soldiersi * Kites and Israeli Soldiers * Gilad Schalit * Ehud Goldwasser * Eldad Regev * Almagor Terror Victims' Organization * Releasing Terrorists * Goldwasser's and Kiteflying * IDF * KIdnapped Soldiers * Israeli Soldiers * Kidnapped Soldiers * Olmert and Soldiers * Hostage negotiation * Israel * IDF and Hamas * Golani Junction * Australia * Israel Politics * BagelBlogger * Bagel Blogger