The Australian Open -
One of Four tournaments designated as a 'Grand Slam' event.
Unbelievable! Beaten by a tie break point.

She won the first set, fought for the second,
and looked like winning the third,
until a change of luck went Serena Williams way. Shahar Peer is only Nineteen,
we will see many more achievements from her.
Mazal Tov to Shahar Peer for a superb effort,
She has gone so close to making the Australian Open Semi Finals


A Photo from her previous match.
A Fantastic Performance by Shahar Peer
___________________
Here's What Bagelblogger had to say the other day!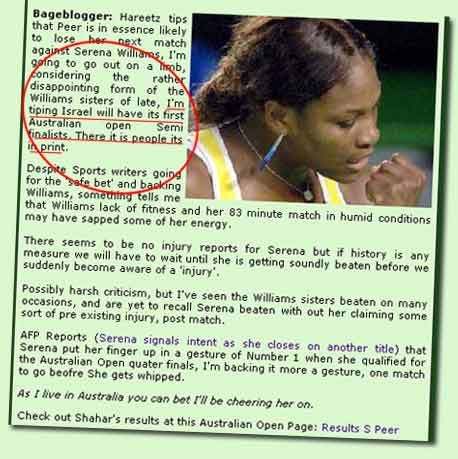 Every one should be very proud of the efforts of Shahar Peer
What a excellent achievement for Israel Sport
Check out Shahar's results at this Australian Open Page: Results S Peer



Bagelblogger Go Shahar..!
* Australian Open * Australian Open Tennis quarter final * Shahar Peer * Israeli Tennis * Australian Open and Peer * Serena Williams * Aussie Open * Peer and Grand Slam event * Peer and Tennis * Israeli and Australian Open * Jews and Sport * Jewish * Israel *
BagelBlogger * Bagel Blogger