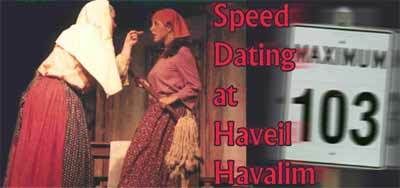 Yehuda has been busy.

This Haveil Havalim will last until you're 103!!
Speed Dating at Haveil Havalim
"We're going to what?" Sharon asked, for the third time.
The bright lights of the New York City streets rushed past,
white, yellow and red streaks outside the frosted taxi windshield.


"Haveil Havalim," answered Mitch, for the third time.
"It's a speed dating service on the upper West Side."




Hold on, this one first Date you will not forget.


Yehuda
! Great Job..!
*
Jerusalem Games
*
Soccer Dad
*
Haveil Havalim, Number 103
*
Haveil Havalim
*
Speed Dating at Haveil Havalim
*
103 Haveil Havalim
*
Me-ander
*
Shiloh Musings
*
Greetings From French Hill
*
Me-ander
*
Daled Amos
*
Psycho Toddler
*
betbender
*
meander
*
The Clash of Civilisations
*
shilohmusings
*
yourish
*
israelrules
*
lifeinisrael
*
me-ander
*
asimplejew
*
Elder of Ziyon
*
Abbagav
*
abaleboosteh
*
sultanknish
*
muqata
*
Israel
*
Jewish
BagelBlogger
*
Bagel Blogger