Police have asked general public to help apprehend a gang of Arabs who kidnapped and brutally raped a young Jewish woman in northern Israel last week. They suspect the gang has acted before.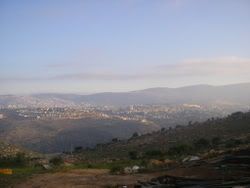 The 20-year-old resident of Karmiel was walking on a local street last Monday night when a car pulled over in front of her. Three Arab men jumped out of the vehicle and forced the woman into the car.
They drove to an Arab village on the outskirts of Tzfat, where two of the men sexually assaulted and raped the young woman for hours. The third man kept watch outside the apartment the men used for the crime.
The Arabs then drove back to the site of the original kidnapping and dumped the woman's body there. She eventually made her way to the region's main hospital, in Nahariya, where she was operated upon.
Police are investigating the case but have not yet apprehended any suspects. The woman's mental state has made constructing composite sketches from memory impossible. One detail she remembered was that the men drove a white BMW sedan.
The nature of the rape matches that of two other such incidents in the northern region, leading police to believe that the same gang of Israeli Arabs carried them all out.
Police are therefore calling on residents of Karmiel and the northern region to come forward with any information they may have on the case.
BB: Lets hope these animals are brought to Justice
References:

Arutz Sheva:
Police Ask Public For Help in Catching Arab Rapists
[END]

Bagelblogger The Latest News.
* Karmiel * Tzfat * Arabs Rape Karmiel Resident *Israeli Police ask for Public Help * Serial Rapists * Arab Serial Rapists * Nahariya Hospital * Rape and Hate Crime * Three Arab Suspects and Rape * Police call for Assistance * Rape and Trauma * Rape and Composite Sketches * Arab Rapists * Arabic Crime * Israeli Arab Rapist * Israel * Jewish * BagelBlogger * Bagel Blogger