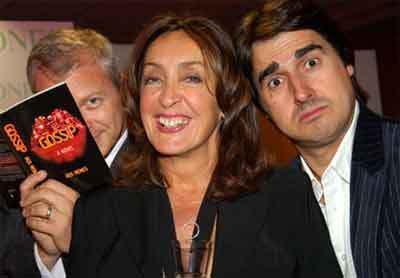 Ros Reines during her book launch earlier this year 'Gossip'.
It seems that the Sydney Jewish community row over a canceled Bar Mitzvah 'Bar Mitzvah canceled due to Halacha Problems', has just stepped up a notch or two. It seems the Mother, who was bandied as a 'Journalist', [their seems to be a lot of opposing opinion] is none other than Ros Reines the darling of the Sydney Social scene, and feared by many for her known ruthlessness when it comes to getting the gossip for her gossip column.
[Click read More..]
In an article that has appeared in Sydney's Major Daily Sydney Morning Herald, Anger as rabbis demand boy be recircumcised , [Ros used to work there until the grass seemed greener at the Daily Telegraph ] the tune has turned to the Orthodox community now being targeted for 'unfairness'.
In what should have been a very private matter and simple but extremely rare Halacha observation that his circumcision wasn't 'proper', it has now been blown out to this sordid affair. The Orthodox Rabbi's invited Ros to avail her son to a rather common surgical procedure under general anaesthetic, but Ros took exception to this.
This is where the problem lies, Orthodox Judaism has criteria which has existed for hundreds of years, adaption, change and exclusions/exceptions are not the policy. Every Orthodox Jew is treated the same. This is shown in the way Orthodox Jews are buried. There are no extravagant Funerals, extravagant tombstones or the like, rich or poor every one is considered equal under G_d.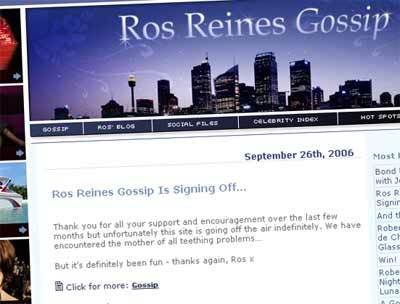 For those that don't know of Ros Reines, She was the gossip columnists that dumped on Famous Stock Broker Rene Rivkin that fateful morning, the very same morning that Rene decided it was all too much.
It seems Ros has had her fair share of Damocles swords hanging over both local and overseas stars. Notably Sarah Michelle Gellar was noted as one of her 'notches'.
Well as is often the case with those that live by the sword, it seems that this time the sword has turned around, It now seems to be hanging over Ros; Queen of Dirty subjects.
I looked for her Book 'Gossip' which was released this year, but the Pulitzer Prize judges hadn't finalised the list of entrants.
The sad thing is, despite all the extra attention Ros has drawn to 'her' tragedy , it has come all too late to save her Huge Blockbuster Blog, Ros' Blog which decided to stop 4 weeks ago.
All that traffic and lack, there of, in comments, might be the real reason for the forlorn message "this site is going off the air indefinitely"
Right: Ros Reines Former Gossip Blog, Not causing huge Traffic jams.
The sad thing is, despite all the publicity that you are now getting Ros, did you think for a moment that your Thirteen year old boy might not appreciate the entire world knowing about his un - kosher willie?
Or were you blinded again by the lights?
References:
SMH: Anger as rabbis demand boy be recircumcised
Daily Telegraph: Daily Telegraph
Ros Reines Gossip Blog
Gossip Ros Reines Book Review [SMH]
Wikipedia: Rene Rivkin
BB: Bar Mitzvah canceled due to Halacha Problems
What is the Sword of Damocles?

Bagelblogger Thanks for reading!
* Bar Mitzvah *Chabad Double Bay * Rabbi Yanky Berger * Temple Emanuel Woollahra * Ros Reines * Sydney Jewish Community * Sydney and Jewish * Ros Reines * Ros Reines and Gossip * Daily Telegraph and Ros Reines * Ros Reines and Double Bay * Halacha and Circumcision *Yanky Berger * Ros Reines * Rabbi Ulman * Jewish * Ros Reines and Simcha * Rabbi Moshe Gutnick * Bar Mitzvah Cancelled * Chabad Double Bay and Bar Mitzvah * Halacha and Bar Mitzvah * Ros Reines Gossip * Sydney Beth Din * Israel * Jewish * BagelBlogger * Bagel Blogger