From Iran Daily Oct 28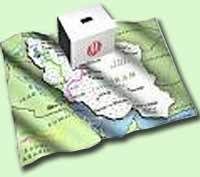 Unregistered Parties Barred From Election
TEHRAN, Oct. 27--An official said on Monday that only parties, which have obtained official permits from the ministry, can conduct electoral activities for the upcoming elections.
Mojtaba Samareh-Hashemi, deputy interior minister for political affairs, also noted that registered political parties and candidates can start their campaigns for Experts Assembly and council elections respectively one and two weeks before the December 15 elections.
Asked about parties which have not yet obtained permit from the Interior Ministry's Article 10 Commission, the deputy minister said the commission is currently examining the eligibility of some political parties.
"We cannot say which parties can have election activities during such a short time," he said, noting that he is trying to increase the commission's meetings in the next two weeks.
Samareh-Hashemi hoped that the application of unregistered parties will be discussed in the commission soon.
"Unregistered parties cannot hold election campaigns," he said.
BB: Let me guess who has control of handing out the official permits?
[END]

BagelBlogger Always Fresh!


: * Iran Daily * Kaveh+Eshtehardi * Iran Dailyrestarts after 5 month ban * Mahmoud Ahmadinejad * Iran Daily and Mahmoud Ahmadinejad * Azeri Minority * Iranian Election * Election Corruption * Unregistered Parties Barred From Election * BagelBlogger * Bagel Blogger