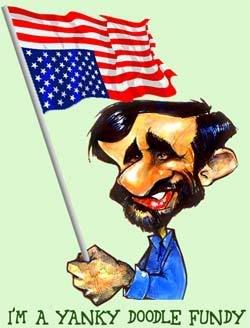 Ahmadinejad sent letter to American people

TEHRAN: Iran's President Mahmoud Ahmadinejad has written a letter to the American people, which will be released in New York, a state newspaper reported.


The newspaper gave no details of the letter, but it would appear to be an attempt by the firebrand president to reach out to Americans over the head of their government.


The state-run newspaper Iran reported the letter in bold type on its front page, saying "the five-page letter to the American people will be released by Iran's representative at the United Nations".


Ahmadinejad wrote a rambling, 18-page letter to US President George W Bush in May, which Washington criticized for not addressing Iran's nuclear program - where the US is leading the drive to impose UN sanctions on Tehran for its refusal to stop enriching uranium.


Iranians in the street were disappointed by the cold response to the May letter because, while it did not make clear proposals, it was the first official communication between the two countries' presidents since the Islamic Revolution of 1979.


Earlier this month, Ahmadinejad said he was planning to write a letter to Americans.
"Many American people asked me to talk to them in order to explain the views of the Iranian people," Ahmadinejad told reporters, referring to his visit to New York to attend the UN General Assembly session in September.


Ahmadinejad has alienated many Americans by calling for Israel's destruction and repeatedly dismissing the Nazi Holocaust as a myth. He also strongly supports the Palestinian militant group Hamas and the Lebanese faction Hezbollah, which the US State Department lists as terrorist organizations.


Twice this year, Iran has proposed talks with the United States over Iraq, but Ahmadinejad has said that for such negotiations to take place, Washington must change its behavior. On Sunday, he said Iran was ready to help the United States get out of the "Iraqi quagmire if the US changes its bullying policy toward Iran."


Iran and the United States have had no diplomatic relations since 1979 when, after the revolution, militants seized the US Embassy in Tehran and kept 52 people hostage for 444 days. ap

BB: This should be a very interesting letter. Could it be that Ahmadinejad is using the classic tried and tested military tactic of divide and conquer? He knows there's diverse opinion in the US right now.
I'll be interested to see the American public's receptivity to this letter.
Here's hoping Americans don't let their memories fail them.

References:
From the Daily Times Pakistan: 'Ahmadinejad sent letter to American people'
[End]



Bagelblogger Usually Always Fresh!



: * Ahmadinejad * Mahmoud Ahmadinejad * Mahmoud Ahmadinejad and letterMahmoud Ahmadinejad and USA *Ahmadinejad and USA * Ahmadinejad and letter to Americans * UN and Iran * Bush * US and Iran * United States and Mahmoud Ahmadinejad * BagelBlogger * Bagel Blogger *