Seems Today has been rather busy.

Not only have we experienced and are still experiencing a rather close bush fire, the only road into the area (for everyone including fire engines) was blocked for more than two hours when a monstrous gum tree fell across a series of power lines. It hung perilously across the access road floating on live voltage power lines.

Emergency Electrical workers were called out as well as local council workers whilst relieving firefighters had to wait for the road to clear.

In amongst all this I had to go into town for an important appointment, which is another post to come.
Coming back from this appointment we were prevented from coming home due to the fallen tree across power lines which was hanging over the road. The worst part was where we live, if we don't have power, we don't have water, nor bathroom facilities. Because of our remoteness as soon as the power goes out we basically live in the stone age. We have to go and fetch water from one of our water tanks. We have a rope tied to a bucket and with some effort we bring the water up.

This has always been a nightmare scenario. It seems round were we live, the first thing to go when there's a fire is..... the electricity goes out.

Well with no electricity we don't have any water.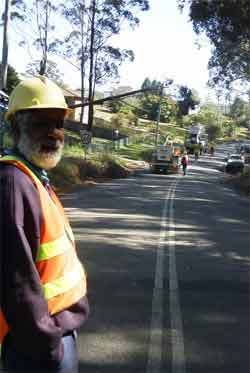 This fellow was pretty friendly I had raced home when we could finally get through and came back to take a few photos of the crew clearing the rather large tree from the power lines.

What you see in the back ground is about half the tree remaining hanging across power lines. Before it had been cut the tree was so large and its weight so much that its former canopy cover the entire road.
Right: Pretty friendly Koori guy [Native Australian], he wasn't phased by anything. I went to take a picture of the scene with him in profile and he couldn't believe I wanted ' his ugly mug ' in the photo.

I was amazed to see the work crew progressively cut the tree shorter and shorter, whilst having to always adjust the position of a cherry picker.

I still find it hand to understand how the weight of such a large tall eucalyptus [gum tree] could have been not only supported but stopped from falling the last 10 meters of its fall. The force exerted by the tree in its falling must have been huge.
After a few hours work people were able to move past with traffic direction
We had high winds, which are really bad for bush fires, because of the Drought in our state, everything is really dry. The part of the State where I live is usually pretty lush at this time of year, this year its very dry. The dry and high winds caused trees every where to fall.
At my daughters primary school there is a ' landmark gum' which had been around for more than a century. Apparently without warning the office heard a thunderous 'cracking' sound, and now it no longer stands proudly marking the Primary school. Luckily the children were all in their classrooms and the tree was away from any buildings.
I heard off an old timer once, his theory on why trees fall. What I've seen since has proven him right time and time again.
He said to me,
"don't you worry about them gums. They've been standing tall for longer than you and I can remember. There's only one thing you need to know about gums, if its been really hot, I mean really hot for a long time, then it rains, 24 to 72 hours later if a tree wants to fall it will.
Ever since I heard that, it seems he has been right 98% of the time.


If you look closely you can see the power wires supporting the tree.
This photo shows clearly the perilous situation, the tree loppers had taken about 10 meters[30 ft] off the tree already when they started to get to the delicate part.
I thought Chainsaws and power lines didn't seem like a good mix.
Despite my reservations I took a gamble and stood almost under
the power cables to catch this photo of a large section being felled.
BUSHFIRE!
If you read the previous post you would have realised we had fires very close by.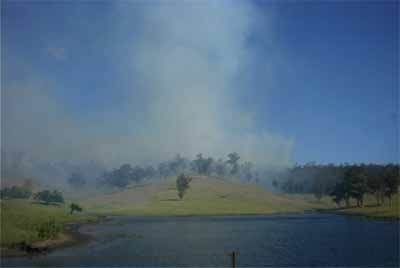 A rather Peaceful scene belies the danger of a bush fire.
Despite the expanse of water and the rather idyllic rural scene, the area we live in contains some very heavy forested areas. We live on the most heavily forested section on a bluff. We've seen footage of what happens when fires go up treed bluffs, and its scary.
The way our house is built it basically overhands a cliff with 50 metre high gum trees, despite its breath taking vista of the river and valley below, once we smell smoke we live on edge.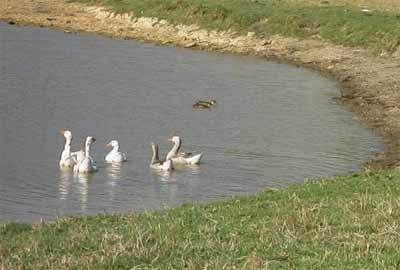 Despite the goings on the local Dam ducks didn't seem to worried.
I get the feeling they've seen this all before.
Come to think of it, living in a dam and having wings, you would think you wouldn't have too much to worry about when it comes to fires would you not?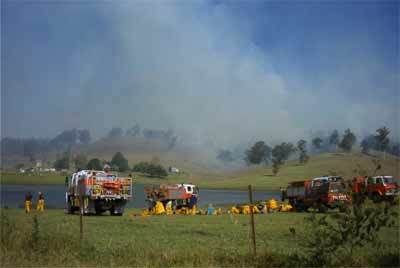 When you see the local Rural Fire Service volunteers flat out
taking it easy getting their breath back, you know there
must not be too much to be worried about.
These guys do it for love, they don't get paid and they spend much of their spare time doing training courses.

S
o unless there's a massive flare up and a big change of wind, it seems for now the fires are under control.
Apparently there's some pretty heavy duty bulldozers currently dozing fire breaks.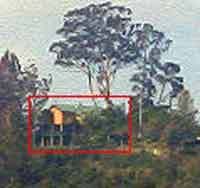 You might wonder why we panic so much when there's fire any where near? Well this is where we live. We live in a house surrounded by huge trees basically buried in bush hanging onto a cliff. The photo to the right is a blurry enlargement of the centre of the photo below it.

It doesn't look to high in the photo but theres a river and creek in between and its a lot higher than it looks in the photo.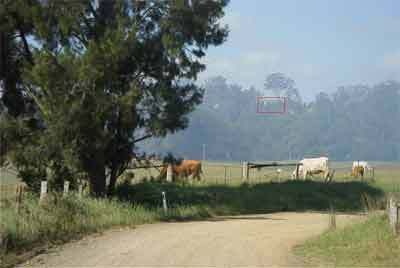 This photo was taken ealier this afternoon,

the photo looks blurry because of the smoke.

Update:
These are the latest photos taken within the last ten minutes, it's turning dusk here, seems like the fires are flaring up again. Now that its coming onto dusk you can easily see the flames of these area near our house.
These photos are taken from the back Verandah you can make out in the photo of the house. The dam you see in one of the photos is the same dam the emrgency vehiccles were parked next to this afternoon. The dam is right next to the turn of depicting the cows in the above photo.
OK the photos aren't too great thats because its actually quite dark outside.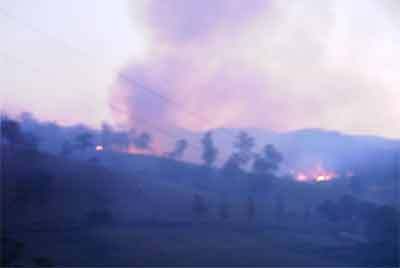 You can't see it but there are lots of emergency vehicles surrounding the blaze.
This photo depicts the dam that is just in front of where we live,

this photo like the other two is taken from our back verandah.
Ok.
Thats it from 'Bagelblogger Central Fire Command'. Check you soon !
[End]


Bagelblogger
Usually Always Fresh, very smoky at the moment!

:
*Bushfires * Australian Bushfires * Australian fires * Australian Outback and Fires * Bush Fires in Australia * Australia and country life * Smoke * Bushfires and Smoke * Firetrucks * Fire * BagelBlogger *
Bagel Blog

ger