This article written by Associated Press Writers is certainly
nowhere near the worst in bias I have seen. But just to give the reader a hand I thought I might try
a little ' Bias and real intent' translation. [Click Read More...]
JERUSALEM (AP) -- Israel and the Palestinians agreed to a cease-fire Saturday to end a five-month Israeli military offensive in the Gaza Strip and the firing of rockets by Palestinian militants into the Jewish state, but early violations by Palestinian militants tempered hopes the accord would help revive long-stalled peace talks.

The Israeli military said early Sunday that it withdrew all its troops from Gaza in the hours before the 6 a.m. cease-fire took effect. But occasional rocket and mortar fire from Gaza continued to strike Israel within the truce's first hour.
The IDF has withdrawn from Gaza

BB: Yes, it's official we have a ceasefire. It may have already have been broken basically before it began, but hey being a Palestinian militant you can't expect them to abide by any normal rules regarding honor.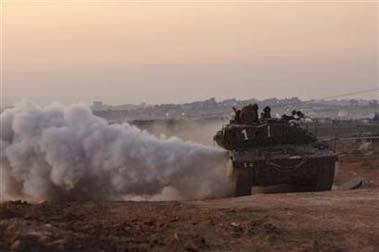 IDF tanks withdraw from Gaza
"Let's hope that's just the problems of the beginning," Israeli government spokeswoman Miri Eisin said. "But if Israel is attacked, we will respond. If there are Palestinian factions that are not part of the cease-fire, it's hard to see how the cease-fire will hold."
BB: Seems the Israeli Spokesperson already has bad forebodings about the sincerity of this cease fire.
Will this be another example of the Palestinians making a peace treaty, but failing to reign in militants. Under the pretense of ' not under control' Palestinian militants will still attack Israel. Israel will finally respond after many provocations, only to be accused by Hamas of breaking the peace treaty. You have to be cynical with the Palestinians, they are so duplicitous in everything they do.
Above: Masked gunmen holds homemade rockets during an Islamic Jihad press conference in Gaza City, Thursday Nov. 23, 2006.
[Homemade just like 'mum' used to make?..
They look a little better than Home made!]

A spokesman for Islamic Jihad, Abu Hamda, said his group fired three rockets into Israel at 8 a.m., two hours after the start of the truce, and denied his group had signed on to the cease-fire agreement.
BB: So Israel is supposed to commit to a Cease Fire where only some of the Palestinian militant factions will abide by, again we see the Palestinians set up the ' its not us, we don't have any official control ' over them rouse.
This is exactly why any peace talks with the Palestinian authority are a waste of time, concessions are made by Israel to only mean nothing at a later date. Israel withdrew from Gaza a year ago, to have Hamas not recognize Israel??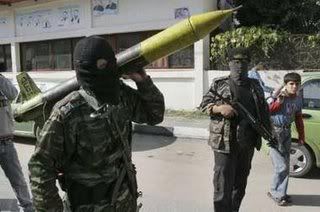 Above: A masked gunman holds a homemade rocket during an Islamic Jihad press conference in Gaza City, Thursday Nov. 23, 2006.
However, top Islamic Jihad leaders had said they were part of the deal, and the new rocket fire suggested they were not in control of all their cells, clouding prospects for the truce's longevity. Hamas militants reported on the group's official Web site that they had launched rockets into Israel at 7:30 a.m. and 7:55 a.m., saying they had not stopped their attacks because some Israeli troops remained inside Gaza. Israel said all its troops had pulled out early Sunday.
Above: A Qassam rocket lies on the ground in the southern Israeli town of Sderot November 23, after it was fired by Palestinians in Gaza.

BB: Top Islamic Jihad leaders said"they had not stopped their attacks because some Israeli troops remained inside Gaza. Israel " sure, and not only that, we couldn't help have a few free pot shots.

A spokesman for the Palestinian government, Ghazi Hamad, said that all armed groups had committed to the agreement, and termed any violations rogue acts.

"There is 100 percent effort to make this work, but there is no guarantee of 100 percent results," Hamad said.
Above: A Qassam rocket lies embedded in the ground in the southern Israeli town of Sderot November 22, 2006, after it was fired by Palestinians from the Gaza Strip

BB: Here's that Palestinian logic again, Israel you stop defending, and we'll pretend that we're not officially sanctioning 'other previous un heard of groups' from attacking you.
The truce agreement, if it holds, would be a significant achievement for Palestinian President Mahmoud Abbas as he tries to put together a more moderate government to replace the one currently led by Islamic Hamas radicals. Abbas, a moderate from the Fatah Party, hopes a deal with Hamas will persuade the West and Israel to lift crushing economic sanctions against the Palestinians.
Above: In this image relased by the Israeli Government Press Office, Israeli Foreign Minister Tzipi Livni stands next to a pile of Qassam rockets that fell in recent months in the Sderot area, as she speaks with foreign diplomats visiting the town Thursday, Nov. 23, 2006.
BB: Yes it may indicate a significant achievement, pretty well a miracle if the cease fire is obeyed, and that's why it's even more unlikely for Hamas to observe it. For Hamas this is a Hudna, time to equip itself with anti tank missiles through what has to be one of the most porous borders for arms smuggling in the Middle East.
The sides announced the cease-fire Saturday after Abbas telephoned Israeli Prime Minister Ehud Olmert late Saturday to tell him he had arrived at an agreement with all Palestinian factions - including those allied with Hamas - to stop all rocket attacks and suicide bombings from Gaza.
BB: and the West Bank?

Abbas asked that Israel, in turn, stop its military operations in Gaza and withdraw its forces, and Olmert agreed, spokespeople for both leaders said.
Above Right: Mahmoud Abbas and Ismail Haniyeh
discuss Power sharing many months ago



BB: Well that's positive, and it seems despite the media spin Hamas is putting on it, that it may not have been exclusively a Hamas/Palestinian initiative either if we read between the lines of Abbas telephone call.
Abbas spokesman Nabil Abu Rdeneh said from Gaza City that Palestinian Prime Minister Ismail Haniyeh of Hamas and the Palestinian factions had agreed to reinstate a truce between Israel and the Palestinians reached in Egypt in February 2005.

BB: Until such time as enough anti tank missiles and other munitions are delivered via Iranian assistance that is.

Earlier in the day, various militant factions had denied reaching a cease-fire agreement. But after it was officially announced, they acknowledged the accord and said the denials were linked to power struggles among them.


BB: Palestinian power struggles affect cease fires,..no you would never believe it. I'm sure when Abbas starts looking like he accomplishes things, things might change and Haniyeh will rear up Hamas's ugly terrorist head.
Israeli forces originally entered Gaza in late June in an effort to win the release of a soldier captured in a June 25 cross-border raid by Hamas-linked militants and still in captivity.
Right: Mahmoud Abbas Paradoxically seen as
the Moderate force in Gaza
BB:
Now this expression is so artful, talk about Palestinian media spin. Escaped Prisoners are captured, Criminals are captured, Intruders are captured, but soldiers inside Israel. They're not captured they're ruthlessly kidnapped and held hostage for ransoms. Which is totally against the Geneva convention Mr Haniyeh.
But Israel soon widened its operations to target militants who had intensified their near-daily rocket attacks on communities in southern Israel. Despite international criticism over Palestinian civilian deaths, Olmert had pledged earlier this month to continue the offensive until Palestinian rocket attacks from Gaza significantly decreased.
BB: Yes, and the rockets would eventually decrease, do you think the Palestinians have stopped firing rockets because they respect and love Israelis? Or is it because they are enduring to many militant casualties?

Instead, the rocket fire in November has more than doubled from October.
BB: An obvious temporary reaction to the Israel's campaign to hold terrorists responsible for their actions.
Would you expect anything less initially?
The capture of Cpl. Gilad Shalit in June and the subsequent Israeli offensive cut short efforts by Olmert and Abbas to restart peace talks that broke down six years ago. A truce could help to create the momentum to get talks moving.

Lies,Lies and More Lies when is Cpl Gilad Shalit going to be returned?
BB: Capture? Baloney, he was kidnapped, after an Israeli position in Israel was attacked with no warning.

"We welcome the announcement and see this as a positive step forward," White House spokesman Alex Conant said Saturday evening in Washington. "We hope it leads to less violence for the Israeli and Palestinian people."
Above: Israeli soldiers, wounded during military operations in Gaza, are evacuated by comrades in Kibbutz Mefalsim November 23, 2006.
BB: Of course it is hoped it will lead to less violence.
The violence over the last five months has killed more than 300 Palestinians, mostly militants. Earlier this month, 19 members of an extended family were killed in an artillery attack in the northern Gaza town of Beit Hanoun, prompting worldwide calls for Israel to end its offensive. Israel expressed regret for the loss of civilian life and blamed the deaths on a technical problem.
Above: Israeli soldiers, wounded during military operations in Gaza, are evacuated by comrades in Kibbutz Mefalsim November 23, 2006.
BB: Now there's something you don't usually see, a media outlet saying ' mostly militants!', it's a shock to even hear this expression with regards Palestinian causalities. The Palestinian's love putting a spin on causalities, even Terrorists formerly referred to as Militants normally referred to as 'Activists' are now being referred to as 'Residents', yes it's undeniable they do actually reside when their not killing people.
Five Israelis have been killed during the offensive - three soldiers in Gaza and two civilians hit by rocket fire in Israel. In addition, two other soldiers were killed during the cross-border raid on June 25.
Above: Members of an Israeli family survey their damaged house following a Qassam rocket attack in the southern city of Sderot Saturday November 25.

BB: So rather than minimize it, in the last five months there have been at least 5 IDF soldiers killed, and at; least the same in civilians counting the kidnappings of Civilians, and rocket fatalities. There has been countless residents of Israel injured by the thousands of Palestinian rockets fired indiscriminately at Israeli towns.
On Saturday, a rocket hit an unoccupied house in southern Israel, and blasts ripped apart two cars carrying militants in northern Gaza, killing at least one and wounding several passersby. One vehicle was struck by missiles fired from an Israeli aircraft, and the source of the other blast wasn't known.
Above: An Israeli man stands in a damaged house following a Qassam rocket attack in the southern city of Sderot Saturday November 25.
BB: On Saturday a Palestinian rocket that was indiscriminately targeted towards civilians in an Israeli town was very fortunate to have hit an house that was empty at the time. It ripped apart part of the house upon impact.
Israel targeted a vehicle carrying militants in northern Gaza, there were unconfirmed reports that several passer bys, taking advantage of the situation feigned shock so as to add to the casualty figures of civilians.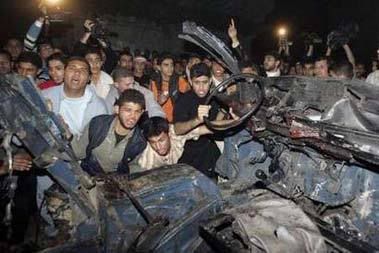 Above: Palestinians gather around a destroyed car after witnesses said it was hit by an Israeli missile in Gaza November 25.
BB: The source of the other blast is strongly suspected to be a Palestinian ' work accident ' or in more honest terms, an explosion from the manufacturing of rockets, bombs and I.E.D's. destined to be used against civilians.

Three other militants were killed in clashes with Israeli troops elsewhere, including two hit by Israeli fire near the main Gaza-Israel cargo crossing, Palestinian officials and Hamas said. The army said it had no information about fighting at the Karni passage.
Above: Palestinians inspect the damage to a car after it was hit by a shell fired by an Israeli tank near Jebaliya, in the northern Gaza Strip, Saturday, Nov. 25.
BB: 3 terrorist were prevented from killing civilians.
The West and Israel placed economic sanctions on the Palestinians after Hamas won legislative elections in January because the militant group refused to meet international demands to renounce violence, recognize Israel and honor past peace agreements.
Hamas, Nov. 23, Palestinian Fatma Omar An-Najar is seen
before carrying out a suicide bombing next to Israeli soldiers in the northern Gaza Strip.
The Palestinian grandmother blew herself up near Israeli troops in northern Gaza .

How many days will it be before Israeli soldiers are accused of targetting a 'poor old Granny'. Do you wonder why? Any body can be a suicide bomber in Palestinian society
BB: Palestinians learnt that comes power comes responsibility, by voting in terrorists, there was a price to pay, by the whole of Palestinian society.
Hamas and Fatah have been in talks in recent weeks on the formation of a more moderate government of professionals to replace the one led by Hamas. Another major element of the talks is the release of the captured Israeli soldier in exchange for Palestinians that Israel holds.
BB: Hamas and Fatah have been arguing about having token figures or stooges to pretend they are in power, whilst the power structure doesn't really change. This is thought as a strategy to fool the U.N. into resuming the humanitarian payments. Talks about the unlawful kidnapping of an Israeli soldier that is being ransomed by the Palestinians in breech of the Geneva convention are stalling as Hamas demands an unreasonable amount of militants to be released, who will undoubtedly come back and kill more Israelis.

Hamas' supreme leader, Khaled Mashaal, was in Cairo to discuss both issues with Egyptian mediators, but there was no word of a breakthrough.
Above: Khaled Mashaal, Leadership by proxy, ...
and avoidance of military responsibility by proxy
BB: Khaled Mashal whilst in Egypt talking to a Egyptian mediator, made a passing remark how remarkable it was that Palestinians were able to smuggle anti tank weapons into Gaza. With this they both smiled.
Mashaal said his group was willing to give peace negotiations with Israel six months to reach an agreement for a Palestinian state in Gaza and the West Bank. If the talks failed, however, he threatened a new armed uprising.
BB: Mashaal said it would take about six months to suitably re arm the militants in Gaza and the West bank.

The double-edged comments were his strongest confirmation that the Islamic militant group would allow Abbas to try to negotiate with Israel. But it was also the first time he has set a deadline with an explicit threat of a new uprising.
BB: As a strategy Hamas decided as a desperate move to allow the appearance of a change of power, thus allowing the recommencement of U.N. aid, this would need to last about 6 months until Hamas surreptitiously seize power from Fatah again.

"We give six months to open real political horizons ... We agreed on the national accord to establish a Palestinian state, with the June 4, 1967 borders," he told a news conference in Cairo, referring to Israel's borders before it captured the West Bank, east Jerusalem and the Gaza Strip. "They have to seize this opportunity," Mashaal said. If an agreement is not reached within that time frame, Mashaal threatened a new confrontation with Israel. "Hamas will become stronger and the resistance will resume ... and will go on with a third uprising," he said.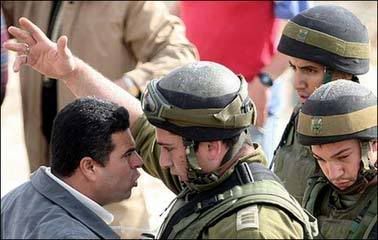 Above: A Palestinian protestor confronts an Israeli soldier during a protest against Israel's controversial separation barrier in the West Bank village of Bilin.
BB: We want what we lost in the 1967 war, it's so unfair that we tried to annihilate the Israeli's, that they won. and that a price should be paid for our wanton aggression. As soon as they're stupid enough to give us back the high territory that we lost, we shall use this to win back the territory form the 1948 war, and then we will drive the rest of the Zionist pigs into the sea and, err. We want peace.
Israel had no immediate comment on Mashaal's proposal.
BB: The Israeli official roared with laughter that the Palestinians would think Israel would be so dumb.

Mashaal said "great strides" had been made in negotiations over a new government. But he said "more time" was needed and stuck to Hamas' rejection of a Cabinet made up of technocrats rather than politicians from the two parties.
BB: We still haven't figured out who will make the best puppets.

He also blamed Israel for failure to reach a deal for the release of Israeli Cpl. Gilad Shalit in return for Palestinian prisoners held by Israel.
Above : A Palestinian woman attends a rally in support of Palestinian
Hamas-led government in the eastern part of Jerusalem Friday November 24.
BB: We have demanded an unusually high amount of Palestinian terrorists be released as we need more suicide bombers in 6 months time when we re start the intifada again.

"We are not the reason behind postponing the decision; the postponing of a settlement is due to the other side," Mashaal said of a prisoner swap.

BB: We would like to present ourselves as reasonable. We want to make the world think we are not murdering terrorists that deserve no quarter given. We would also like to use the Israeli public in our efforts to win the release of a huge amount of terrorists for our new campaign. We are despicable and like to remind the Israeli public of the consequences that could happen if we aren't given in to. We would also like to remind the Israeli public that we really like them, and promise not to kidnap more Israeli's when we get rewarded for this kidnapping.

References:
The Columbus Dispatch: Israel, Palestinians OK Gaza Cease-Fire
By AMY TEIBEL and IBRAHIM BARZAK
Associated Press Writers Ibrahim Barzak contributed to this report from Gaza City, Gaza Strip. AP writer Nadia Abou El-Magd also contributed from Cairo, Egypt.

Bagelblogger Always fresh!


: *Palestinians * Ceasefire * Iran *Gaza * Israeli and Palestinian Ceasefire * IsraelKhaled Mashaal * Bush * Hamas * Abbas * Palestinian Duplicity * BagelBloggerBagel Blogger * *