The concept of saving a post locally, before uploading seems to have skipped the thoughts of our mighty 'blogger' creators.
[Click Mr Bagel to be saved from the 'lost my entire post!' blues]


I hate that you lose your entire post.

I hate that you're lmited to a small number of photos that are uploaded with blogger with great difficulty.

I hate that you're reduced to really boring 'same factory' pages.

The solution? LIVEWRITER



Microsoft Live Writer [in beta] which has/will soon have some really 'excellent plug ins' and using a photo hosting service such as photobucket, file den, picasso, etc.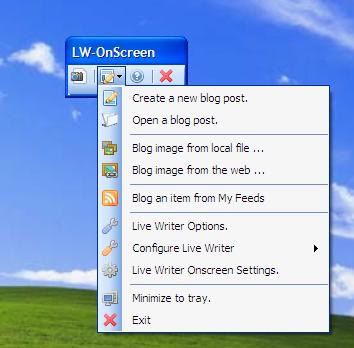 Right: Lifewriter Onscreen is one such Plug in

Check it out, you'll be thankful.

Drop by and say 'You're sooo groovy' after you've installed it.

Oh and the best part? It seems so obvious- you can write offline, preview offline and then later connect to upload and post.

It requires 'NET Framework' to be already installed. You would have been offered to install this important 'add on' earlier if you choose to ignore, nows the time to install it.
You can use your windows updating features to install 'Net Framework', if you don't already have it.
[If you're not sure download it from the Windows Live writer link and read the instructions]
It was designed for MS's own blog net work but, it works perfectly well with blogger, (and most other blog hosters) , ok not perfectly well, but a lot better than.....

Aaron

[lol on the groovy bit]



BagelBlogger
Thanks to Blogger for the incentive!


: *
Blog
*
Blog Writing
*
Blogger Faults
*
Writing a blog
*
Losing your post
s *
Post crash
*
Lost my Post
*
Live Writer
*
Live Windows
*
Writing a better blog
s *
Saving Posts
*
Blogger Faults
*
Writing a Post
*
Blog Hints
*
Blog Help
*
Blog Writing tips
*
Blogger
*
Blogging
*
BagelBlogger
*
Bagel Blogger