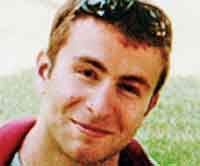 A
n Australian Jew fighting with the Israeli army has been killed during a fierce battle in southern Lebanon. Assaf Namer, 26, was one of nine soldiers killed in a Hezbollah ambush near the guerilla stronghold of Bint Jbeil in southern Lebanon yesterday.
Sergeant Namer, whose family lives in Sydney, was born in Israel but moved to Australia with his family when he was 10. The Australian citizen moved back to Israel two and a half years ago to enlist in the army, according to Israeli media reports.
NSW Jewish Board of Deputies chief executive Vic Alhadeff confirmed Sgt Namer's death.
"We were extremely upset to hear about the death as we are at all casualties of this war," Mr Alhadeff said.
Sgt Namer's sister and mother left Sydney today on their way to Israel.

The Israeli newspaper Yediot Achronot said Sgt Namer was from Kiryat Yam, and was serving in the Golani division of the Israeli army. Sgt Namer was due to be discharged from the army within a month and planned to settle down in Israel with his Tel Aviv-based girlfriend.

Mr Namer's grandmother was the first to receive news of the soldier's death after army representatives came to her house late Wednesday night.

The Israeli born soldier, moved to Australia at the age of ten and became an Australian citizen. He returned to Israel two-and-a-half years ago with the intent to enlist in the army and serve as part of the Golani division.

Assaf Namer, a volunteer with the Israeli army, was killed in a battle with Hezbollah. He was a month short of finishing his army service.



"In my eyes he was the perfect son," said his father,
speaking from Kiryat Ata, near Haifa in Israel.



He said he had premonitions of his son's death after speaking to him a week ago and learning he had been asked to serve in Lebanon.

"He sounded OK. He was not scared. I told him to be afraid all the time. That's the only chance. When we finished talking I started to cry."

Assaf Namer was born in Israel but moved to the Sydney suburb of Bondi with his mother when he was 12. He returned to Israel two years ago to serve in the army and joined an elite unit.



He had refused an offer by the army to complete his service in an intelligence unit. "He was a boy that had no fear."



His childhood friend, Daisy Moreno, 26, described
Mr Namer as "like a brother to me, happy, beautiful".



Mr Namer was one of eight soldiers killed on Wednesday in a battle with Hezbollah on the outskirts of the southern Lebanese village of Bint Jbeil. The troops began entering the village at 5am in an operation to engage Hezbollah guerillas and destroy their weapon stores.

Mr Peretz also pointed out that Sergeant Namer had made a decision to come back to Israel and serve in the army despite it not being a requirement.

"Although his life was in Australia, he was a Zionist who chose to come to Israel in order to do his part," Mr Peretz said.







Technorati Tags: * Australian * Brave Australian Jew * Assaf Namer * Israel * Jewish * BagelBlogger * Bagel Blogger