Week 7 Of Bodgey Bagel's Incredible Caption Contest!

For Entry into Bodgey Bagel's Caption Contest Week 7
Leave your Caption for the Photo in the comments.
All entries must be in beforeWednesday 13th December
mm ...this will be good!
Caption away! Leave your entries in the comments section before Wednesday 13th December.
May the best caption win!

The Winner of Last weeks Contest No 6:(6th Dec)

[Click Read More..]

The fourth 'almost famous' Bodgey Bagel Weekly Photo Caption contest.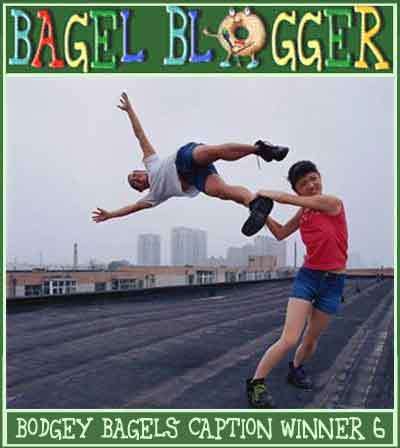 The 6th Bodgey Bagel Caption Contest winner is.....Drum Roll

1st Place: But Sweetie, this isn't what I meant when I asked if we could be swingers... [ Adjustah ]



2nd Place:

And introducing...
the latest Olympic sport...
the Husband Javalin!
More fulfilling that a divorce settlement! Great therapy!
recommended by doctors [ muse ]

3rd Place: Man: " I hate PMS." [ Aussie Dave ]

4th Place: ASIAN AIR-MALE [ elliot ]


5th Place:
Kim Song wanted to see if she really 'trusted her husband as far as she could throw him' [ elliot ]

Honorable Mentions:

HM: Look out! She's gonna hurl! [ Cowboy Blob ]
HM: Frustrated by slow progress, George Bush began to personally train Iraqi security forces. [ McCain ]



Confused: Rodney Dill submitted this entry, now normally Rodney is right on the money but I just cant figure it out... Any takers? "AFRAC!!!" [ Rodney Dill ]

Bagel's Dishonourable Mention: K_fed met his perfect match, then he sang to her! [BB]


Fantastic entries,thanks you guys! Bagelblogger






Other blogs with Caption Contests:





Outside the Beltway




Rightpundits.com


The Clash Of Civilizations


Willisms


Commonwealth Conservative


Bullwinkle Blog


The Right Place


Bravozulu


The Gone Rick Motel


Blogmeister USA


Cowboy Blob


SgtStryker


Wizbang Blog


With Thanks to all those that entered - Bagelblogger.


Bodgey Bagel's Caption Contest 7
Get those Captions in!!



: *
Bodgey Bagels Caption Contest 7
*
Caption
*
Funny Caption
*
Funny Photo Caption
*
Caption Contest
*
Bodgey Bagels Caption Contest 6
*
Bodgey Bagels Caption Contest 5
*
Bodgey Bagels Caption Contest 4
*
Bodgey Bagels Caption Contest 3
*
Bodgey Bagels Caption Contest 2
*
Funny
*
Humor
*
Laugh
*
Captions Contest
*
Jew
*
Australia
*
Jewish
*
BagelBlogger
*
Bagel Blogger