A Storm of Protests precede Congress swearing in.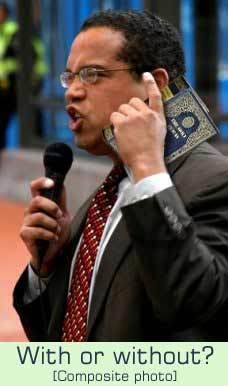 Minnesota Democrat Congressman Keith Ellison wants to swear on the Koran.

Has this turned into a case of an opportunistic attack on American Jewish Politicians?
Keith Ellison, recently elected as the first Muslim Congressman, has caused an uproar over his plan to use the Koran instead of the Bible at the customary swearing-in ceremony.
Right: Keith Ellison wants to hold the Koran whilst Swearing in
Writer Dennis Prager, who is Jewish, said Ellison's plan "undermines American civilization," but the Anti-Defamation League and the Reform movement slammed Prager for intolerance that could harm Jews.
Prager wrote, "If you are incapable of taking an oath on that book [the Bible], don't serve in Congress.
Video Below: An interview of blogger Abdi Aynte from Minnesota Monitor blog, giving his thoughts on the whole affair.
The MSNBC anchor asks the Minnesota Monitor's Abdi Aynte why Keith Ellison is choosing to swear on the Koran.

MSNBC Anchor:
"Why isn't Ellison choosing to go with tradition or convention in the swearing in?"
Abdi Aynte from MM replies: "That is a very good question, and some in the [sic] Moslem leaders here in Minneapolis, I have asked er, them that question and they said that question they said look there are some elected officials um, in the United States, ar, most recently er, Representative Debbie Wasserman Schultz a Florida Democrat who is Jewish, who refused to take the over[sic] the oath of Office on the Christian Bible, she latter borrowed a Hebrew bible from a friend of hers and took the oath, and then there is the example of Governor Linda Lingle of Hawaii who has taken the oath of office on the Torah, so the Muslim leaders and other community leaders here are saying there seem to be some sort of double standardism[sic] in this country when it comes to Muslim taking the oath of office on the Koran."
I suppose the problem I have watching this video is the sense I feel that Abdi Aynte has not only done his homework, and been tutored by a Mufti or two, but to me, his what about ' them Jooz ' seemed to be a thinly veiled attack on Jewish representatives. It was enough that he pointed out that some American Jews had requested to swear on the Hebrew Bible [Tanak], or the Torah, but his overly emotive quote

"who refused to take the over the oath of Office on the Christian Bible"
seemed intent on placing emphasis on the process of 'refusal' rather than 'prefering'.
I wonder how Mr Aynte would react if fellow reporters/bloggers clearly stated that Keith Ellison had ' refused to take the over the oath of Office on the Christian Bible '.
It would seem that Mr Abdi Aynte hasn't been quite honest, more an omission than deception, as your 'esteemed colleague ' has discovered at the Minnesota Monitor, After discovering she had forgotten her copy of the Tanak[Jewish Bible]: the Christian Bible was proffered to her, by Republican House Speaker Dennis Hastert (R-III) [Obviously an evangelist ! ..BB)] and she politely declined it.
This does not quite equate to she ' refused to take the over the oath of Office on the Christian Bible '.
If you can't see a difference there Mr Aynte maybe a member of Congress could proffer the Christian Bible to Keith Ellison during the swearing in process?
He didn't bother using examples of Congress representatives who simply chose not to use a religious book such as the bible, but rather than chose this or other examples of the use of religous texts including the Koran, he chose to emphasize the Jewish Representatives.
Abdi Aynte just happens to be a news reporter/blogger with Minnesota Monitor, his fellow reporter/blogger is well aware of other Non Jewish exceptions to swearing on the ' Christian Bible'. It seems that while Abdi is busily pointing out ' them Jooz' his work colleague, is busy representing the facts with slightly less bias?
Although I was amused with the slant Robin Marty put on the story , you quote swearing in events 6 years old, but you can't find any other religious examples except Jewish?
The ABC managed to find examples
"And there's precedent for taking an oath on the Quran. Osman Siddique, a Virginia businessman born in Bangladesh, reportedly used the Quran in 1999 to take the oath as U.S. ambassador to Fiji and three other Pacific nations. The News-India Times reported that Siddique, the first Muslim to serve as a U.S. ambassador abroad, took the oath on both the Bible and the Quran. The Quran was on top, the newspaper said."
The Wasserman example quote which appears on the NJDC article is:
U.S. Rep. Debbie Wasserman Schultz (D-Fla.) made headlines earlier this month when she could not find a Hebrew Bible for her swearing in; she refused the Christian Bible proffered by House Speaker Dennis Hastert (R-Ill.) and eventually borrowed one from Rep. Gary Ackerman (D-N.Y.).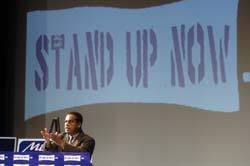 It's a surprise to me to see news/blogger reporter Abdi Aynte [obviously a supporter of Ellison? see below] seemingly play the 'Jooz' card so quickly after Ellison's successful election, especially when so much of the Jewish community had been behind Ellison's running for congressman.
The NJDC * not only went out of its way to call for attacks by some Republicans to cease, but even clearly advocated that the Jewish community support him.
In a September 21, 2006 article the NJDC pointed out:
Keith Ellison has received the endorsement of the American Jewish World, Minneapolis' largest Jewish newspaper, as well as the endorsements of countless Jewish activists and Jewish elected officials from around the country.
The article went on to clearly encourage broad Jewish support for Keith Ellison.
I wonder if any American Jewish Politicians running for congress can rely on CAIR* offering support?
_______________________________________
UPDATE: Abdi Aynte, belatedly has now decided to write an article about a Jewish organization blasting Dennis Prager
National Jewish Organizations Blast Prager's Remarks what a pity this 'Jewish' support was forgotten on PRIME TIME Television! ... Should we be surprised?
Quite correctly the ADL has pulled Dennis Prager to task over this:
In summary their last paragraph covers it fine:
Prager presents intolerant, ugly views. His comparison of Ellison's desire to "choose his favorite book" to that of the right of a racist elected to public office to use Hitler's Mein Kampf is outrageous. If Prager were merely a blogger and radio talk-show host trying to be relevant and provocative, these views might not merit a response. But as a newly-appointed member of the United States Holocaust Memorial Council, Prager and his views must be held to a higher standard.
Above Right: Dennis Prager
Something rather innovative to some sections of the community, Is the sight of a Jewish organization reprimanding a Jew who, when in a position of representation and influence, crosses the 'unacceptable' line.
Maybe a lesson for some other religious followers?

Other Reading:
Seems there's a lot of differing opinions out there.
Think Progress seems to have taken an axe to Dennis Prager
Think Progress: Pundit Admits Forcing Congressman To Swear In With Bible 'May Well Be' Unconstitutional
Prager has got the American Family Association frothing at the Mouth:
AFA: A first for America...The Koran replaces the Bible at swearing-in oath
References:
Townhall: America not Keith Ellison decides what book...
MSNBC: Muslim replaces Bible with Quran
Official Site: Congressman Keith Ellison [unavailable as yet]
Campaign Site: Keith Ellison.org
Official Site: Congressperson Debbie Wasserman Schultz
Official Site of Governor of Hawaii:Governor Linda Lingle
abc News.com: First Muslim in Congress Wants Quran for Swearing-in Ceremony
Arutz Sheva: Muslim Congressman To Use Koran for Swearing-In
Minnesota Monitor: Denis Prager - Hateful and Wrong
NJDC: NJDC Calls on Alan Fine and Republicans to Apologize
NJDC: Religious Tests on Politicians?!?!?! It's the Constitution, Stupid!
ADL: ADL Statement on Dennis Prager's Attack On Muslim Congressman
[*] NJDC: The National Jewish Democratic Council
[*] CAIR: Council of American - Islamic Relations
Video Transcription: Bagelblogger
Abdi Aynte: Is he a supporter of Keith Ellison?
Transcript of writings for Minnesota Monitor includes 10 out of 11 articles destinctly from a Muslim point of view including many focused around Ellison. The eleventh is an article on National Jewish organisations blasting Dennis Pragers remarks about Ellison

Bagelblogger Always Fresh!


: * Keith Ellison * Muslim Congressman * Koran and Congress * Muslim and Congress * American Family Association * Swearing In * Minnesota * Minnesota Politics * US Politics * Swearing on Koran * Muslim Congressman * Koran and Congress Swearing in * Muslim and Congressperson * Youtube *Abdi Aynte *Abdi Aynte and anti semitism * Minnesota Monitor * Israel * Jewish * BagelBlogger * Bagel Blogger