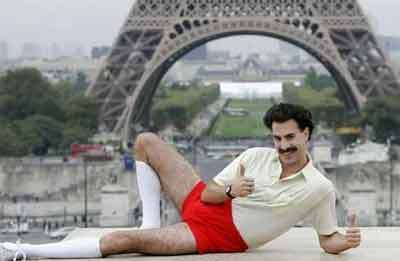 Borat: Paris is full of Lovers
A top Kazakh official has an invitation for the British comedian whose depiction of a homophobic, misogynistic, English-mangling Kazakh journalist has outraged the Central Asian nation: come visit.
The Deputy Foreign Minister, Rakhat Aliyev, said in an interview published today that he understands why Kazakhs are unhappy about Sacha Baron Cohen's character, Borat.
"But we must have a sense of humour and respect other people's freedom of creativity," Mr Aliyev was quoted as saying by Kazakhstan Today.

"I'd like to invite Cohen here," he said. "He can discover a lot of things. Women drive cars, wine is made of grapes and Jews are free to go to synagogues."
[Click More to...]
Though to some Cohen's antics are potentially more insulting to Americans, Kazakhs have long seethed at his popularity and his maligning of their country. Cohen's Borat character has presented inhabitants of the ex-Soviet republic as addicted to horse urine, fond of shooting dogs, and viewing rape and incest as respectable hobbies.
Kazakh officials have tried to respond to the outrageous descriptions.
The Foreign Ministry recently ran ads on CNN, in The New York Times, and the International Herald Tribune citing laudable - though slightly boring - facts and figures on the nation's economic growth, civil liberties and cultural achievements.
Kazakh officials are also wincing at the imminent US premiere of Cohen's full-length feature movie Borat: Cultural Learnings of America for Make Benefit Glorious Nation of Kazakhstan.
"It's useless to offend an artist and threaten to sue him," Mr Aliyev was quoted as saying. "It will only further damage the country's reputation and make Borat even more popular."
References:
SMH: Kazakh invites Borat
Borats Official Home Page:Official Borat Homesite
Borats 'Myspace': Borat
Borat Clips:Yahoo
BoratMovie.com
Guess who is coming to Australia soon!
Bagelblogger
is a fan of Borat.



: * Kazakistan
* kazakistan Money
* Sacha Baron Cohen
* Kazakhstan central bank
* 2000 tenge
* 5000 tenge
* Kazakh
* misprinted notes
* Kazakhstan+misprinted+notes
* Kazakistan+misprinted+notes
* Borat
* Sasha Cohen
* Jewish
* BagelBlogger
* Bagel Blogger