From the AJN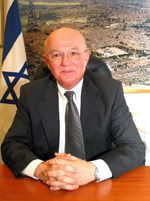 ISRAELI Ambassador Nati Tamir, on his way back to Canberra following a short visit to Israel, has been recalled to Jerusalem to explain comments he reportedly made to a newspaper about Asians having "yellow skin and slanted eyes".
Tamir was reported to have made the comments in Ha'aretz last week before he departed from Israel.
He said Israel and Australia are "like sisters in Asia", because "we don't have yellow skin and slanted eyes".
Israel's Foreign Ministry on Friday condemned the remarks, saying Tamir had been recalled to clarify if he was accurately reported.
Spokeswoman Ilana Ravid said that Tamir, who has been in his post since January 2005, was called back to Jerusalem for a "further clarification".
Ravid said the fact that the ministry called Tamir back as he was en route to Australia was a measure of how seriously it took the matter.
She said Tamir had told the ministry his comments were not accurately reported.
Tamir was quoted in Ha'aretz as saying: "Israel and Australia are like sisters in Asia. We are in Asia without the characteristics of Asians. We don't have yellow skin and slanted eyes.
"Asia is basically the yellow race. Australia and Israel are not - we are basically the white race. We are on the western side of Asia and they are on the southeastern side."
The Foreign Ministry issued a statement on Friday saying that if the report was accurate, the remarks were "grave and unacceptable", and the ministry would not be able to carry on with "business as usual".
Tamir, who previously served as ambassador to Finland and also served in various posts in Washington, Tokyo and Strasbourg, is also Israel's non-resident ambassador to New Zealand, Papua New Guinea and Fiji.
[END]

Australian Jewish News
A Must read for Aussie Jews!



: * Israeli Ambassador * Israeli Ambassador and Australia * Nati Tamir * Naftali Tamir * New Zealand and Israeli Ambassador * PNG and Israeli Ambassador * Fiji and Israeli Ambassador * Recalled Israeli Ambassador * Israel's Foreign Ministry * Israel's Foreign Ministry and Israel Ambassador * Australia * Israel * Jewish * BagelBlogger * Bagel Blogger