Sheik Feiz Mohammed preaching Jihad and intolerance

Extracts from Sydney Morning Herald
[Commentary, Video and pictures added by Bagelblogger. ]
____________________
Firebrand Muslim preacher Sheik Feiz Mohammed has referred to Jews as evil in a videotaped lecture still being sold in Sydney despite threats of legal action by the federal and state governments.
He refers to Jews as he makes pig-like snorting noises.


They will be [snort, snort] - all of them. Every single one of them.
In the talk, titled The Gathering, he also referred to Jews as


the leader of pride or arrogance.
They have got the most extreme racial pride in them, he said.
They say that every single non-Jew is a slave created to serve the Jews … Their time will come like every other evil person's time will come."
Sheik Feiz was born in Sydney and now lives in Lebanon.
The 12 lectures, contained in packs of DVDs titled The Death Series, attracted attention following the airing of a British documentary, Undercover Mosque. Its producers bought the series from children selling Islamic materials at a car park outside a mosque in England.

In this video the Australian SheikFeiz Mohammed refers to Jews as Pigs
The lectures, in which Sheik Feiz also refers to Jews as pigs and calls on Muslim parents to offer their children as soldiers to defend Islam, were still on sale in Sydney late yesterday. The Herald found the series in an Islamic bookshop in Lakemba.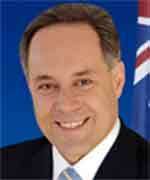 The Premier, Morris Iemma, called on the Federal Government to use sedition laws to outlaw the DVDs.
Right: New South Wales Premier Iemma

He has gone way beyond the sort of outrageous and stupid comments made in recent times by the other sheik,"
Mr Iemma said, referring to Sheik Taj el-Din al Hilaly.
This fellow is inciting people to commit acts of terror.
A spokesman for the federal Attorney-General's department questioned yesterday why Mr Iemma had not moved to have the series banned under state laws prohibiting the sale of unclassified DVDs.
The acting Attorney General, Kevin Andrews, said Australian Federal Police were investigating the matter.
Mr Andrews labelled the preachings an "importation of hatred" and said an investigation had begun.
"There is an offence in Australia, in broad terms, for a person to incite violence against another person or group of people based on political opinion or religious grounds or belief," he said.



The Federal Opposition Leader, Kevin Rudd, said Sheik Feiz was not welcome back in Australia.

These statements are obscene in the extreme.
Sheik Mohammed has made extraordinarily violent statements when it comes to encouraging people to commit acts of jihad, he said.
I would say this to Sheik Mohammed, 'Do not return to Australia, you are not welcome here.' As I see it, Sheik Mohammed's statements add up to incitement to terrorism.
In one of the DVDs Sheik Feiz criticises Muslim parents for being too cautious about letting their children receive jihad teachings.
He also talks of his desire that children be offered "as soldiers defending Islam".

Sheik Feiz makes pig-like snorting noises when he refers to Jews.

"They will be [snort, snort] - all of them. Every single one of them."
The president of the Islamic Friendship Association, Keysar Trad, described some of the comments as ambiguous, but condemned the attacks against Jews. "If he means by standing up and defending faith in a non-violent way - do it using words - then we all do that.
"But if he means taking up arms, that would be something most people would take objection to."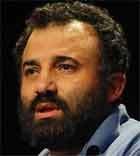 Keysar Trad may be president of the Islamic Friendship Association, (and coincidently also its founder) but as the representative of Sheik Elhilaly, they wheel him out to proffer apoligies and theories of mis translations each time the Sheikh has made more and more outlandish claims and statements.

Above Right: Keysar Trad, Ever ready to be wheeled out to defend the indefensible

Now that Keysar Trad is wheeled out as the defender of Sheik Feiz Mohammed you have to seriously start doubting this mans integrity.

According to Keysar Trad;

Some of the comments are 'ambiguous',

That's funny I got the message pretty clear and I'm not even a Muslim.
Keysad Trad has even began putting pen to paper, which is a nice change from the more orthodox approach to Muslim public affairs, Swords to Necks.
In his self written article published only 4 days ago, Mufti lost in translation in the Daily Telegraph, he claims that Sheik Taj el-Dene Elhilaly is a victim of 'mis translations' and that Arabic orators use an excessive flowery type of description that is exagerrated and can lead to a loss of translation.
He appeals to Australias by using examples of Australia's literary history;
But the use of exotic, colourful or exaggerated generalisations – familiar to readers of Lawson and Patterson – remains a feature of contemporary Arab culture.
He then goes on to explain the custom of using exageration as a literary device;
He claims:
Linguists who teach the Arabic language in Arabic-speaking countries believe that the mark of a good writer is how much he or she can exaggerate in illustrating a point.

Give this gift of exaggeration to a man of the cloth whose domain is fire and brimstone euphemisms and you will get very colourful and exotic analogies. You may have read a few in the past few days.

Arabic writers exaggerate to stretch the reader's imagination and to ensure that they present a story without offending individuals.

The aim with exaggerated story telling is to make it easier for people to draw moral lessons and conclusions.
To me this plethora of exaggeration (or is that insincerity) seems to be at its strongest when Keysad Trad apologises profusely for the mis translations' which seem to plague the Sheik's oratations.

You might be the face of 'so called Moderate Islam' Keysad Trad but your continual and unswerving devotion to Sheik Elhilaly reveals your true orientation. Apologists and admirer in one.

That you would even bother defending Sheik Feiz Mohammed is of serious concern.



The head of the NSW Jewish Board of Deputies, Vic Alhadeff, said he was concerned some people could be influenced by Sheik Feiz's comments.
"It's of great concern when someone in a position of leadership abuses their authority to incite racial hatred - that is what this man is doing."
It's of a certain irony that almost this time last year, there was a public debate by the Australian Treasurer Peter Costello and others against Fundamentalist Muslims, accepting Australian values and Immigration.

Where have we moved since then? No where.
References:
Daily Telegraph: Mufti lost in translation
The Age: Our values or go home: Costello

:Bagelblogger Appreciates your Vote!!


: Sheik Feiz Mohammed * Sheik Feiz Mohammed and dvd * Sheik Hilali * Keysar Trad * Muslim representative defends Sheikh Feiz Mohammed * Islam and Racism * BagelBlogger * Bagel Blogger