Week 12 Of Bodgey Bagel's Incredible Caption Contest!
For Entry into Bodgey Bagel's Caption Contest Week 12
Leave your Caption for the Photo in the comments.
All entries must be in before Wednesday 17th January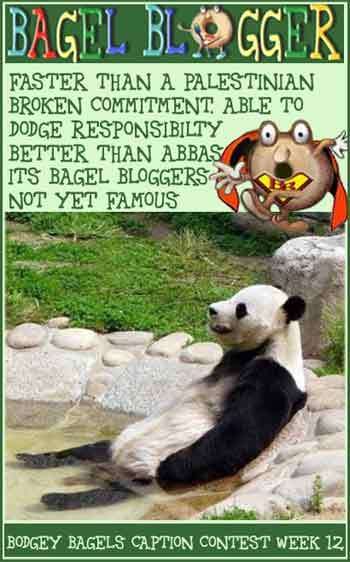 ...ahh the heat was unbearable!
Caption away! Leave your entries in the comments section
before Wednesday 17th January
.
May the best caption win!
The Winner of Last weeks Contest No 11: (10th Jan)
[Click Read More..]
The Tenth 'almost famous' Bodgey Bagel Weekly Photo Caption contest winner.
The 11th Bodgey Bagel Caption Contest winner is.....Drum Roll
1st Place: Convinced that nobody would look for him there, Osama starts hanging with K'fed. [ Adjustah ]
2rd Place:Frank Swartz was frustrated, he couldn't be the look-alike for Frank Sinatra or Sean Connery, noooo, he was cursed with this look. [ elliot ]
=3rd Place: Osama relaxes before his next cab driving shift. [ chsw10605 ]
=3rd: They forgot my 'Happy Meal'.[ elliot ]
4th Place: "McAllahu McAkbar!" [ Rodney Dill ]
5th Place: "Yes I got the McMohammed Meal" [ Rodney Dill ]
Honorable Mentions:
HM: Osama bin Laden enjoys a McMeal in a Parisian Cafe. [Thomas Forsyth ]
HM:, Four #2 value meals: #13.99, New Polo shirt: $15.00, New slacks: $65.00.
Expression on Osama's face when he found a finger in his food: Priceless. [ elliot ]
HM: Michael Moore caught Osama on film in his movie 'Super Size That' and didn't know it. It was edited out. [ elliot ]
Bagel's Dishonourable Mention: The Real Ronald McDonald contemplates his next terrorist attack with Hamburglar[BB]
Thanks for you entries! Bagelblogger
Other blogs with Caption Contests:
Outside the Beltway
Rightpundits.com
Willisms
Commonwealth Conservative
Bullwinkle Blog
The Right Place
Bravozulu
The Gone Rick Motel
Blogmeister USA
Cowboy Blob
SgtStryker
Wizbang Blog
If you want to add your caption contest just ask..

With Thanks to all those that entered - Bagelblogger.


:Bagelblogger Appreciates your Vote!!

: Bodgey Bagels Caption Contest 12 * Bodgey Bagels Caption Contest 11 * Funny * Humor * Laugh * Captions Contest * Jew * Australia * Jewish * BagelBlogger * Bagel Blogger