The old terminal in Entebbe, where Israeli commandos in 1976 rescued Israeli hostages being held from an Air France flight, will be torn down today, Tuesday, officials in Entebbe reported on Monday.
A museum dedicated to that rescue and the hostages is expected to be built on the location.
[Click Mr Bagel to See Photos Of Entebbe]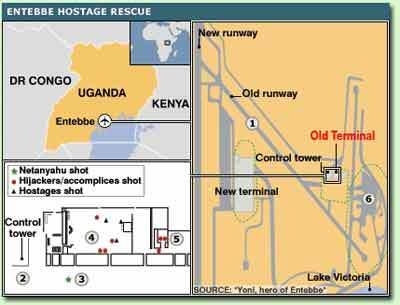 1: Assault force aircraft halt, Mercedes-led convoy alights
2: Commandos leave convoy, run towards Old Terminal
3: Yonatan Netanyahu shot
4: Commandos clear main hall
5: Commandos clear side room
6: Commandos destroy Ugandan Migs
The mission, originally dubbed Operation Thunderbolt by the Israeli military, was renamed Operation Yonatan in honour of Netanyahu - elder brother of Binyamin Netanyahu, who was Israel's Prime Minister from 1996 to 1999.
The raid continues to be source of pride for the Israeli public, and many of the participants went on to high office in Israel's military and political establishment.
The 30th anniversary was recently marked in 2006.
Right: Jonathan (Yoni) Netanyahu 1946 - 1976
The Old Terminal at Entebbe
References:

Yoni.org.il Thank you Yoni.


: * Entebbe * Entebbe 30 Years * Old Terminal at Entebbe * Operation Jonathon * Operation Thunderbolt * Israeli military * IDF * Idi Amin * Yoni Netanyahu * Binyamin Netanyahu * Hostages Saved * Israeli Bravery * Israel * Jewish * BagelBlogger * Bagel Blogger