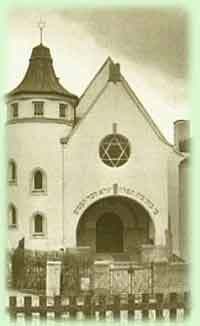 An al-Qaida-linked Algerian terror cell that was broken up by Italian police last fall was planning to carry out attacks on targets in Oslo, Norway, including the city's main synagogue.
Anne Sender, president of Norway's Jewish community, told The Jerusalem Post during a telephone interview from Oslo that local authorities had informed her shortly after the suspects were arrested in November that there existed a credible terrorist threat against the synagogue.
The plot came to light only this week in the wake of a report on Monday in the Norwegian Verdens Gang (VG) newspaper.
"At the time, we were informed by the government that some people had been caught in Italy and that police had found plans indicating that they were targeting the synagogue in Oslo," Sender said.
She added that the threat was considered sufficiently serious that, in its wake, Norwegian police decided to adopt additional, unspecified measures to boost security at the synagogue.
[Click Mr Bagel to Read more!]

The terrorists, who resided in Italy but were allegedly plotting attacks against sites in Oslo, belonged to an Algerian-based group known as the GSPC, a French acronym which stands for the Salafist Group for Call and Combat.
The GSPC, which has links to al-Qaida, is a splinter faction that broke away from Algeria's Armed Islamic Group in 1996.
Sender praised Norwegian police, but nonetheless expressed concern over the community's security with the approach of the High Holidays.
"To be honest, I do think people are a bit nervous now," she said. "We have good contact and cooperation with the police, but we need to be prepared and to put more security measures in place."
In the past few months, Oslo has been the scene of a number of anti-Semitic and anti-Zionist incidents, including an attack on the synagogue last month, where an unknown perpetrator smashed glass windows and scrawled graffiti on the site after defecating near the entrance.
"99 percent of the time it is fine, it is safe, and there is no problem at all, but we do have these incidents," added Sender. "Maybe we are a little naive, but we always seem to think that Norway is separate, that it is different and that it is unaffected by what goes on in the rest of the world."
BB: What has to be a serious concern is the apparent targeting of a synagogue that would be considered a 'soft target'. This Synagogue would not have been thought to be at 'great' risk. There has been a spate of Anti Semitism attacks in Norway recently, nothing to indicate the need for a major heightened awareness.
Norway has been actively acting against Israel's interests of late, but despite the position Norway is taking in this regard, the targeting of the Oslo Synagogue by Al Qaida has come as a shock.
Is this representing the start of a new strategy in Al -Qaida and related terrorism?
References:
Jpost:Al - Qaida cell targeted Oslo synagogue
The Mosiac religious Community [Norway]
BrusselsJournal: Jews under Attack

Bagelblogger
Fresh to you!


: * Norway * Oslo * Oslo Synagogue * anti semitism * Al Qaida * Al Qaida and Norway * Al Qaida and Oslo * Norway and Terrorism * Norway and Jews * Norway and anti semitismAnne Sender * Norway and attacks on Jews * Oslo Jewish Community * Mosiac Jewish Community * Italy and Islamic Terrorism * Italian Police and Al Qaida * Europe and Al Qaida * Europe and Terrorism * Scandinavia and Terrorism * Hate Crime and Norway * Muslim Extremism and Norway * Muslim Extremism and Europe * Israel * Jewish * BagelBlogger * Bagel Blogger
*