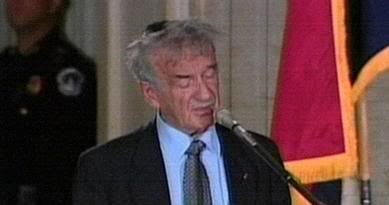 Elie Wiesel Nobel Peace Prize winner 1986
Arrest in attack on Elie Wiesel

[Click Read More...]
New Jersey police arrested a suspect in a hate-crime assault on Elie Wiesel.

Police in Montgomery Township, N.J., said Saturday that Eric Hunt, 22, was taken into custody without incident in connection with the attack on the Nobel laureate and Holocaust survivor.

Wiesel, 78, was accosted on Feb. 1 as he attended an interfaith forum in San Francisco by a man who apparently wanted to force him to recant his wartime memoir 'Night.'

A claim of responsibility posted on an anti-Semitic Web site identified the assailant as Hunt.

The suspect is to be extradited to face criminal charges in California.

______________

Gee, do you think Eric might have made a mistake in boasting about his bravery of attacking an elderly holocaust survivor, in the pen name Eric Hunt on the anti semitic Neo Nazi web site: Ziopedia?

An insight into the bravery of one Eric Hunt is garnered from his own writing:

"After ensuring no women would be traumatized by what I had to do (I had been trailing Wiesel for weeks), I stopped the elevator at the sixth floor," Hunt wrote. "I said I wanted to interview him. He protested, grabbed at his chest as if he was having a heart attack. He then screamed HELP! HELP! at the top of his lungs.


"I told him, 'Why, you don't want people to know the truth?' " Hunt wrote. "After pulling him about fifteen feet out of the elevator ... I decided that it was time for me to go."
Or maybe he was eventually caught because;

"Wiesel said in an interview with The Chronicle that his attacker had driven from New Jersey to confront him and had left his driver license in the car."
Thats a pretty handy clue, leave your car in the Hotel car park with your license in it.

Bagelblogger


References:
JTA: Arrest in attack on Elie Wiesel
SF Chronicle: Police issue arrest warrant in Wiesel attack
Original Bagel report:
The Hunt for Eric Hunt: Holocaust Denier attacks Elie Wiesel
Related Reports:
The Hunt for Eric Hunt: Ziopedia's existence threatened by 'Zionist mafia'
Hunting Eric Hunt: NeoNazi writes Hoax StarBucks letter


Mr Bagel Always Fresh!


: * Elie Wiesel * Anti Senitism * Neo Nazi * Eric Hunt * New+Jersey * Nobel Peace Prize *ZooPedia * Sussex County, N.J * ADL * Elie Wiesel attacked * Bagel * Mr Bagel