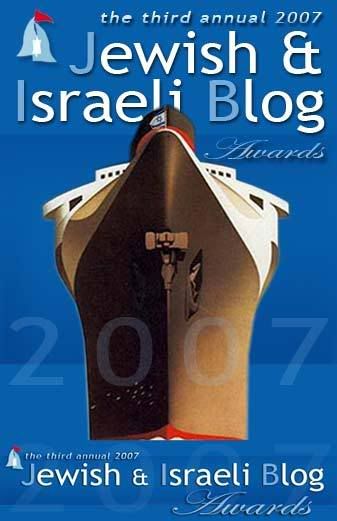 The
Crew are at the helm battling the complexities of preparing for the Official Jewish and Israeli Blog Awards.
The JIB's
The odd ice berg has appeared on the horizon, but all in all the ship has well and truly set sail.
The website is being progressively built and refined, the domain
jibawards.com
has been registered.
[Click Read More...]


We have managed to gain some good corporate Sponsors, more are needed.

Each day we sail forward solving navigation problems with our sextant, maintaining direction, resolving programing problems and trying to foresee other complexities before they arise.

We have the need of a creative and well versed writer for Press releases to the media.
There's a cabin vacant for someone who is not scared of knocking on doors and asking questions, if you've got belief in your abilities and you're looking for a challenge then climb aboard.
It's only when you take on these responsibilities does the enormity of the situation and the work required become apparent. Akiva, Chaim and Aaron are putting together the graphics and website, there's a need for a volunteer with possibly PHP experience.
The team could do with some motivated volunteers, if you've got a lot to offer including demands on your time, then jump aboard what is going to be the biggest promotional event of the Jewish Blogging World.
Like most mariners there's little room for romanticism or fear about going down with the ship, we have taken on the mantle of preparing for the Official JIB awards, and we are steadfast in that, it will be a success.
There's a legacy to strive toward, integrity is paramount,
the JIB's are coming and no iceberg will get in the way.

Check out the web site, get inspired, volunteer if you have the time,
but what ever you don't miss getting your ticket.

Mr Bagel Always Fresh!


: * 2007 JIBs * JIB * Jewish and Israeli Blog Awards * JIB Awards and 2007 * JIBawards.com * Jewish Blog Awards * Israel Blog awards * Israel Internet awards * Jewish Blog awards *Israel * Jewish * Bagel * Mr Bagel *