You can HUFF, You Can PUFF.. But We've had enough... of you Muff!
[Click Read More to...]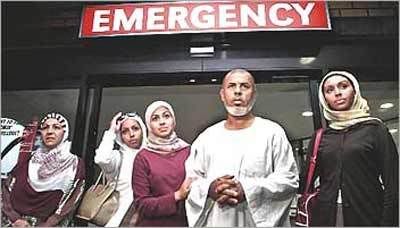 Media Circus after Mufti is accused of assaulting police
and gets 'rushed to hospital'.
Now I don't mean to bring undue attention to some one so obviously ill but have you noticed how convenient Australian Mufti, Sheik Taj al-Din al-Hilaly 'illneses' have been?
__________________________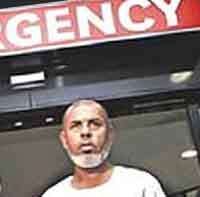 [1] - Sheik assaults Police officers [7/1/03]
-Mufti gets arrested for assaulting Police officers and traffic violations, gets rushed to hospital for 'Chest breathing problems'
According to the police press release, a 62-year-old man, now known to be the Mufti, was stopped by a highway patrol officer because a piece of metal was allegedly protruding from the side of his car. After further inquiries, police claim his car was both unregistered and uninsured, and they say he was arrested, along with another man who emerged from a nearby apartment block, because they started to argue and struggle with the police.
But the Mufti's lawyer, Stephen Hopper, says he has concerns over how his client was treated. The Mufti had to be hospitalised after the incident for an ongoing heart condition, but was later released.
Right: 'The Mufti had to be Hospitalised'
__________________________
[2]
- Sheik fights critics from sickbed
Channel 9: [26/10/06]
Mufti gets interviewed on Television by Channel 9 Australia for controversial comments on women bringing rape apon themselves through the way they dress.
The Lakemba-based imam Taj el-Din al Hilaly - said to be ill and depressed - issued a statement from his bed late yesterday saying he was shocked about how his remarks last month had been interpreted....
He went on to say in relation to a serious gang rape victim

"if she was in her room, in her home, in her hijab, no problem would have occurred."
Right: Shown laying down with asthma and using a ventolator
__________________________
[3] - Mufti ill at reaction to sermon [27/10/06]
Sheik Alhilali appeared badly affected by the backlash, with a spokesman saying he was depressed and confined to bed breathing with help of an oxygen tank.
The mufti of Australia and New Zealand was last night under intense pressure from within the Muslim community over the sermon in which he likened scantily-dressed women to uncovered meat eaten by animals.
Many Muslim leaders and groups yesterday distanced themselves from his remarks and some called for their religious figurehead to stand down.
Five Muslim leaders at Gallipoli Mosque in Sydney's west said many Muslims were "sick and tired" of religious leaders such as Sheik Alhilali claiming to speak on their behalf.
Right: Mufti ill at reaction to comments
__________________________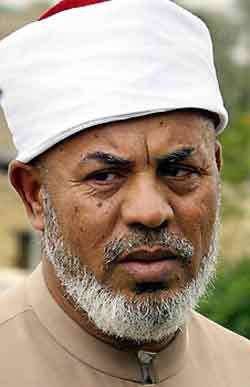 [4] - Hilaly in hospital, condition unknown [30/10/06]
Muslim cleric Sheikh Taj al Din Al Hilaly remains in hospital in Sydney after apparently falling ill but his condition is yet to be confirmed.
An ambulance was called to the Lakemba mosque, in Sydney's south-west, this afternoon where Sheikh Al Hilaly was due to have a meeting with the president of the Lebanese Muslim Association to determine his future.
There has been outrage in the wider community over the sheik's reference to women in a recent speech.
The president of the Lebanese Muslim Association, Tom Zreika, spoke briefly outside the mosque.
"I have come to discuss the issues at the invitation of the mufti of Australia," Mr Zreika said.

"Due to unforeseen circumstances we'll be unable to continue our private meeting and there'll be no further comment."
His contrition came just hours following his collapse shortly after turning up at a crisis meeting at Lakemba Mosque yesterday morning.
Sheik Hilaly was rushed by ambulance and police escort to Canterbury Hospital in western Sydney, complaining of "chest pains".
Above Right: Condition 'Unknown'.
__________________________
[5] - Ill Hilaly agrees to step aside [31/10/06]
Press coverage intensifys due to refusal to apologise, rushed to hospital after collapsing with 'chest pains' before Mosque Meeting.[4]
Misses out on important meeting with Tom Zreika President of Lebanese Muslim Association. An ambulance took the Sheikh to Canterbury hospital.
Zreika said, "I have come to discuss the issues at the invitation of the mufti of Australia. Due to unforeseen circumstances, we'll be unable to continue our private meeting..."
Right: Mufti on the way out? -

3 days later he ignored his promise to refrain from preaching and delivered a sermon to hundreds of supporters Friday. [5c] Nothing this Man says is believable. He hides behind 'Arabic',his lack of 'English', his translators, 'his poetry' he recites during sermons, when he is caught out, it's 'lack of context', it's cultural differences as he preachers Jihad unaware he is being recorded. He lies, decieves, preachers hatred and division.

Above Right: More excuses, and broken commitments.
__________________________

[6] - Sheik out of Hospital [1/11/06]

AUSTRALIA'S embattled grand mufti may be out of hospital but he should never return to his position of influence, Foreign Affairs Minister Alexander Downer said yesterday.

The mufti collapsed on Monday with chest pains as he faced calls to resign over his statements that scantily clad women invited rape.

The sheik collapsed during a meeting with Lebanese Muslim Association president Tom Zreika on his future amid calls for him to quit following his comments suggesting immodestly dressed women invited sexual assault.
Although he gave his strongest indication he would consider quitting in a written statement on Monday, his daughter yesterday said he was adamant he would not be quitting.

``He will not step down,'' she said.

``He's been always strong, tall, and defiant and none of this will shake him and bring him down.''
__________________________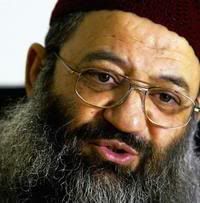 Meanwhile, Melbourne's Sheik Mohammed Omran stood by his belief that Muslim rapists received harsher jail sentences than non-Muslims, saying he had a right to speak out as an Australian citizen.
The cleric also defended Sheik Hilaly's status as a mufti, saying his position should be respected.
"We should respect the turban on his head. This is a sign of a Muslim scholar,"
Sheik Omran told a gathering at his Brunswick mosque on Friday.
"You are not attacking Sheik Taj here, you are attacking the scholars and behind the scholars their Islam altogether . . . this is what makes these people (Hilaly's critics) happy, to make us, sorry to say, barking on each other, and that is not (what) we should do."
Right: Controversial Fundamentalist Sheik Omran comes to his aid.
__________________________
[7]- Defiant sheik turns on 'Islamic plotters'
[4/11/2006]
MUSLIMS' first loyalty should be to God, not Australian society, Taj el-Din al Hilaly told worshippers at Lakemba mosque yesterday during a defiant speech in which he firmly reasserted his place as the leader of "moderate" Australian Islam.
"The plotting will always get back to the plotters. We say to them that Lakemba is the centre and headquarters and the leadership of the Muslims of Australia, the castle and palace of moderation and the mainstream Muslims."
Right: Mufti Suddenly feels better as he defies 'Islamic Plotters'
__________________________
References:
[1] ABC AM Programme: Sheik Taj el-Din Al Hilaly Facing Summons
[2] SMH: Shiek fights critics from sick bed
[3] The Border Mail: Mufti ill at reaction to sermon
[4] ABC News Online: Hilaly in Hospital condition unknown
[5] The Australian: ill Hilaly agrees to step aside
[5a] ABC News On Line: Sheikh will step aside, Muslim colleague says
[5b] Washington Post: Australia's Cleric Preaches Despite Vow
[6] Herald Sun: Sheik out of Hospital [Nov 1 2006]
[7] SMH: Defiant sheik turns on Islamic plotters
News.com.au: Sheik Hilaly prises Iraq jihadists

Bagelblogger News to You!


: *Australian Mufti * Sheik Al Hilaly * Sheik and Australia * Mufti blames women for rape * Mudti blames lack of hijab for rape *Australian Mufti and Illness * Muslim Outrage * BagelBlogger * Bagel