JPOST [Nov 9]: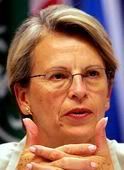 France's defense minister, Michele Alliot-Marie said on Wednesday night that French peacekeeping forces came close to firing on Israeli warplanes that overflew their positions in south Lebanon.
Alliot-Marie told a parliamentary committee that French soldiers prepared anti-aircraft missiles for launch and were seconds away from firing them at Israeli planes.
Bagelblogger:

You can't stop hezbollah from bringing in arms, you don't patrol Lebanon after dark, the Israeli soldiers haven't been freed, your there as 'peace Keepers' but you keep rattling the sabre at Israel?
There seems to be a major conflict of Interests happening with France. it's quite apparent that Lebanon is pressuring France to take a position on their 'soveignity' but only when it comes to Israel?
How do you almost fire on IDF planes? Were they coming in armed dropping bombs?

Do the French need to pick a fight to feel they're doing something, to impress the Lebanese?
Do they need history lessons about Peace Keepers in Lebanon and Hezbollah?
Hezbollah killed 58 French paratroopers in Lebanon knowing that they were under military orders not to shoot back or engage.

References:
JPost: France: We almost fired on Israeli warplanes




Bagelblogger Fresh Always!




: * France * France's Defense Minister * French Bias * 1701 * United Nations resolution 1701 * United Nations *France almost fires on Israeli warplanes * France air missiles * Michele Alliot-Marie * UNIFIL * Hezbollah * Lebanon * Jewish * BagelBlogger * Bagel Blogger