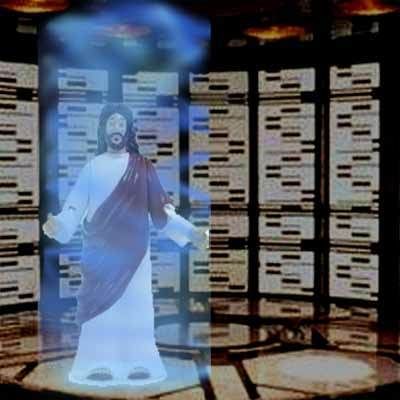 Could it be that J.C. is using a teletransporter to appear
at the East Preston Islamic School to attack Board menbers?
Will we be saying 'Beam me up J.C' ?
A board member at the Melbourne Islamic school which recently expelled students for desecrating the Bible has been bashed by a man who claims he's Jesus and who police fear is armed.
Samir Mohandis, a member of the board of the East Preston Islamic College, said he suffered head injures during the attack by an unknown assailant who entered the schoolground about 4.45pm on Friday.
Police said the attacker, a man aged in his 30s, appeared to have been holding a firearm.
The assailant was not known to Mr Mohandis nor did he say anything to indicate the attack may have been racially motivated, a police spokeswoman said.
Mr Mohandis told Southern Cross Broadcasting the man claimed to be Jesus.
He said security at the school would be increased.
"I still have scars to my head," he said.
The attacker is described as being about 180cm tall and of muscular build with a tattoo on his right forearm.
He had straight dark brown hair and at the time of the incident was wearing a grey t-shirt and dark trousers.
Anyone who may have seen the man in the vicinity of the school around the time of the incident should call Crime Stoppers on 1800 333 000.
Two Muslim students were expelled from East Preston College earlier this month for urinating and spitting on a Bible and then setting it alight.
At the time, the college head, Shaheem Doutie, said the incident was isolated and the school had done all it could to punish the people involved.
__________________
Bagelblogger:

So let me get this right: The Islamic school that was the
center of controversy after some of its students Tore, Spat and Urinated on a Bible is subject to an attack by a 'Jesus' figure, who manages to attack a member of the Board of the Islamic school.
Not a cleaner, grounds person, office worker, but a member of the Board.

He then precedes to have 'appeared to have been holding a firearm' , [those appear types are so much more dangerous], then without being witnessed by any other person he disappears without trace.

Samir Mohnadis has also not only been subject to an ' 2nd coming ' attack, he seems to have mastered time travel.

He still has
scars to his head from the attack which happened five days ago.

It would seem Mr Mohnadis has either lept forward in time seen the scars to his head and then travelled back in time or the head injuries he has suffered has caused a disruption in the time space continium.
[Please Note: Mr Bagel means no offense or disrespect to the Christian community in using a commonly available Jesus action figure and portraying the said action figure in a Star Trek tele - transporter. This ironic portrayal, is merely used as a satire device ]
[End]

Reference:
Smh.com.au



Bagelblogger
Always Fresh!!


: *East Preston Islamic School * Islamic School Board Member attacked by Jesus figure * Samir Mohnadis * Islamic School Students desecrate Bible * Australia and Muslims, Desecration of Bible * Jew * Bible Desecration * Jewish * BagelBlogger * Bagel Blogger