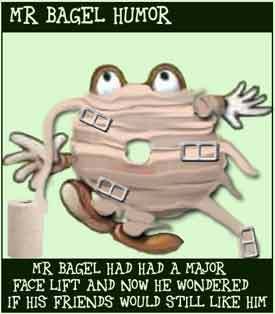 Mr Bagel gets a New Look

F
or those thousands that are my regulars, [chuckle] you may have notice I have recently updated the 'mast' of my page.
For those that remember my old mast and have seen my new mast, feel free to tell me that you either like it, or you think it sucks.
Any feedback or comments are appreciated, even if they are to do with other aspects of my blog.
Bonus points to anyone that can point out the major landmarks and City my masthead is based on.
[If it stills looks like it always has, then refresh your page]
Bagelblogger
[END]


Bagelblogger Always fresh now with a new face!



: * New Blog Mast * Face lift * Mr Bagel * Mr Bagel Humor * Israel * Jewish * BagelBlogger * Bagel Blogger